Often a time gamers don't have the latest gaming pcs, in that case, playing low storage games is the best choice to make. In today's article, we shall be looking at some of the best 100 mb games for pc that you can still play in 2021.
Even Though most of us have different opinions and tastes of genres for games, we have tried to include some of the best from all the different genres.
We are focusing on games that need less than 100 MB. Before you go through the list, you need to be mindful that PC games with very few specs don't always guarantee you the best gaming experience.
Rest assured, these games are marvelous and you can spend hours playing these games.
Beach Buggy Racing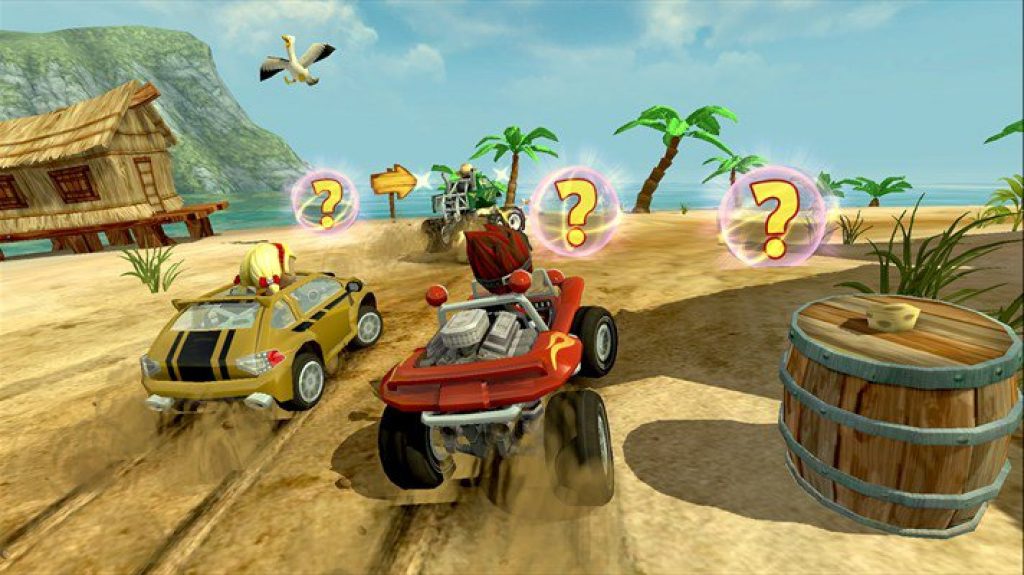 A good graphic offline car racing game with exciting modes and a variety of racetracks, that's what makes the Beach Buggy Racing special.
The game offers HD graphics, creative powerups, customizable cars, monster trucks and much more within a highly compressed full size makes it a king among low-end car racing games.
The game is free to download with the full version on all major app stores with a size of about 100 MB and is supported on Android, PlayStation 4, Microsoft Windows, Xbox One, Nintendo Switch, iOS, and Fire OS Platforms.
OpenTTD
OpenTTD is a business simulation game where players get game currency for dropping passengers by road, rail, water, and air.
The game features many different maps, multiple languages, customization options, and a user-friendly interface.
The game is a multiplayer type for up to 255 players with a mere size of 10 MB.
---
Are you enjoying our best 100 mb games for pc list?
Also check: Best Open World Games For Low-End PC
---
Dwarf Fortress
Dwarf Fortress is a free to download pc simulation game with a truly open world of possibility and is based on the construction and management of resources.
A complicated adventure game that requires players to build up an economy to make money through trade for making a fortress. The game is single-player, offers multiple modes, and has a low size of 20 MB.
Freeciv
Freeciv is a turn-based strategy game for PC that offers single and multiplayer modes where each player is the leader of a civilization leading the nation to survival.
The game was developed by Sid Meier, who is well known for his contributions to the gaming industry. The objective of the game is to accomplish space colonization.
The game takes less than 30 MB and can be played by 126 at a time.
Road Rash
One game that you should always have in your games downloads list is Road Rash. For a game size less than 100 working size, Road Rash has been a favorite game for PC for a long time and continues to impress racing game aspirants.
It is an offline single-player game with a size of 27.1 MB and is free to download on PC. The game features violent and illegal street motorcycle races.
Mortal Kombat 4
There aren't many games that can compete with Mortal Kombat 4 when it comes to small scale fighting games mixed with strategies. It is part of a full version games series that gives interesting graphics, true weapons, and true characters making this game unique.
The game offers both single-player and multiplayer modes. The storyline focuses on good vs bad based on the attack of a corrupted troop on your troop. It is an online game with a size of less than 15 MB.
Ritual: Sorcerer Angel
Ritual: Sorcerer Angel is a casual action single-player video game where players have to equip a sorcerer character with combinations of spells and skills.
The colorful game is eye-catchy and comes in a size of less than just 50 MB. The game is free to play and is supported on Pc as well as smartphones.
Ion Fury
Ion Fury is a single-player true shooter video game with hand-crafted spaces, a lot of secrets to discover, and customization options.
The game gives 28 levels across 7 zones of interesting missions and interesting gameplay as well as storyline keeps the players excited at all times.
The game has a size of 88 MB and is free to play.
Make War
Make War is free to play tactical game and can excite anyone who likes adventurous battle games.
The games include a variety of tasks other than the main task and challenges players must complete before moving on to a different period.
It is a single-player game with a size of 58 MB and requires the player to use unique strategies to win the game.
Star Racing
Star Racing is a futuristic racing game that's free to download on PC and play. In general, it is a spaceship racing competition.
Sharp bends, a fatal crash, and not so bad graphics for a low-end game makes it worth the time.
Multiple challenging tracks, different gaming modes, and options to unlock different spaceships make the game special. It is a single-player game with a size of 16.6 MB.
Conclusion
Games less than 100MB for pc is not something that can excite gamers. High-end games free download is something that is not going to work for you especially if you are struggling with low-end PCs and Slow-internet.
There would surely be many more compressed games that we have missed out for sure. However, this list of games can really help in killing some time.
There is a countless number of low-end games that you might feel much more comfortable with than the ones that we have mentioned in our list, mostly because it depends on your personal taste.
Some of these games are ancient, but the thrill it provides has not changed a lot with time.
We hope you've liked our list, until then, Happy Gaming!