The Google Stadia is the next big thing in the gaming industry. It will give access to players enjoy their favorite games on any device.
There have been many companies trying to develop a flawless streaming gaming service for many years now. However, when it's Google, there is always an extra punch and that's what makes this project so ambitious.
Google Stadia claims to give an output power of a custom AMD 2.7GHz x86 processor with 16 GB RAM. Plus, up to 484 GB/s transfer speed, and a GPU that has 10.7 teraflops of power on all devices.
How do Google stadia work?
At a surface level, Google Stadia is a gaming platform designed for gaming with high graphics settings.
Google claims that the new platform would help ardent gamers get exposure to live multiplayer games. Also providing developers with a base for making cross-platform games.
The initial rumors suggest that Stadia will work similarly to the famous video streaming platform, YouTube with improvements.
The new technology aims at removing the barriers to gaming console requirements. Thus, operating from using Google's Data Centers in 200 countries and territories.
If you have ever imagined playing games smoothly without needing a physical disc, Google has certainly answered your question.
Google has already confirmed that Stadia will have exclusive games.
Slow Internet For Streaming Games?
The internet speed is always going to be a big question in the case of streaming games.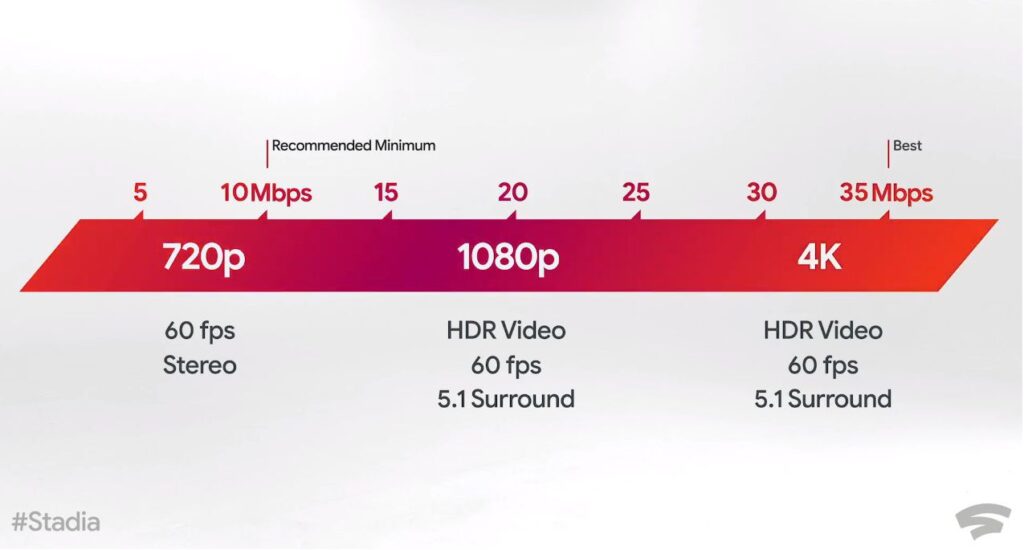 There is very little doubt that it would work only on strong internet connections, which might be the reason why Stadia is planned to launch in Europe and North America initially.
According to Google, a minimum of 25 megabit internet speed is necessary to stream games at 1080p/60fps.
But the wave of data revolution might make it possible for Indian gamers also to avail the services at earliest.
Pricing and Subscriptions
There are two subscription tiers that are offered by Google for Stadia which are Stadia Base and Stadia Pro.
The base version is available free of cost for any with a Gmail account and has even announced two free months of Stadia Pro trial as an initial promotion.
The pro version costs $9.99 a month but gives you access to game quality up to 4K/60p HDR with 5.1 surrounds along with some free games and attractive discounts on games.
The price of the game will be different according to the genres you prefer as well the gaming publishers you prefer and would be sold only through Google.
Google Stadia Vs PS5: Who's Gonna Win?
The technical side of Google Stadia looks neat on paper and is going to tough competition for Sony's PS5 which has been quite impressive with its gaming quality.
Making a comparison between PS5 and Stadia is a daunting process as one requires a perfect internet connection which makes a lot of difference in resolution as well as frame rates while the other takes up more from your wallet.
Google Stadia has the advantage of updating it as it is a cloud-based service. While on the other side the PS5 offers a constant resolution of 4K which can also go up to 8K.
The Stadia server can perform 10.7 trillion floating-point operations per second while PS5 gives 10.28 trillion floating-point operations per second.
When Will Google Stadia Launch In India?
Google Stadia has made itself available in India on November 20, 2019. But, the platform has not reached many mainly because of the lack of Internet infrastructure for better speed.
However, Google is optimistic about the initial development and there is no doubt that digitalization will be growing much with every year.
Stadia has launched large scale operations in North America and most European countries. The cloud-based platform is available to download free of cost on Android as well as IoS. Stadia.com will help players to access it on laptop, desktop, or Chrome OS on Stadia.com.
Google Stadia is sure to make its markets like no other in the gaming industry and cloud-based streaming sure looks like the need of the hour.