indian gamers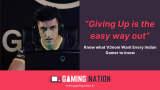 "Giving Up is the easy way out" - Ankit V3nom PanthWe're living in an era that has seen a technological explosion giving a major boost to hundreds of ...
Zishu crossed 100 thousand subscribers on his YouTube Channel. Sohail Sheikh also know as Zishu, a 23-year-old has crossed this massive milestone in a matter ...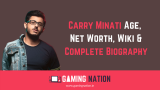 Carry Minati, more popularly known as Ajey Nagar, has accomplished way over what we could imagine at his age. The 21-year-old has crossed 27 million ...