Are you looking for the best gaming monitor under 40000?
If you're interested in buying a monitor under 40000 for gaming that has the best display, viewing angles and low response time with a high refresh rate – this list of the top 10 best monitors will help you choose the best model at the best price.
While buying the gaming monitor, you must check the important features like height/tilt adjustability, g-sync or free sync enabled, RGB lighting, and most importantly, the warranty. Many times gamers don't consider these factors which makes them regret buying the monitor afterward.
However, if you check the below list of Top 10 Monitors Under 40000, you're likely to enjoy the gaming experience on these gaming monitors.
Top 10 Best Gaming Monitor Under 40000 In India 2022
AORUS FI27Q
Best Gaming Monitor Under 40000
The Aorus FI27Q is a QHD 1440p gaming monitor with a 165Hz refresh rate. It provides an all-around balance between work and gaming. Enabling 1ms latency gameplay with 95% colour accurate IPS panel for professional work like video editing. Unless you are looking to double down on a 1080p display for gaming or a 4K display for work, this is the ideal monitor for most people providing the best of both worlds.
It measures in at 27 inches with 2560 x 1440 QHD resolution. The body of the monitor is sleek and the wings on the back are fashioned after a Falcon. It has thin 8 mm bezels present in most displays. While most monitors tend to darken in HDR mode there is no such issue with the FI27Q. Its 1000 nits brightness is way ahead of the competition and helps in experiencing true HDR.
The monitor comes with FreeSync premium alongside Nvidia G-sync compatibility. The RGB lights are present on the stand and the back panel. These can be customised with the RGB Fusion 2.0 software. It's fairly compatible and has Display port 1.2, HDMI 2.0 and 2 USB 3.0 slots.
The company has a zero white dot policy claiming the user to experience no white dots within a year of purchase. Gigabyte provides a 3 years warranty for this product in India. The monitor has excellent tilt, swivel and ergonomic stand adjustability. The excellent viewing angles are excellently supported by a 90-degree swivel and 130 mm stand height.
BenQ Zowie XL2746s
📶 CONNECTIVITY: DVI-DL x 1, HDMI 1.4 x 1, HDMI 2.0 x 1, DP 1.2 x 1, USB 2.0 Port x 1, USB 3.0 Downstream x 2, USB 3.0 Upstream x 1
The BenQ Zowie XL274s is a monitor drawn out for competitive gaming and FPS shooters. Its 240Hz refresh rate and 0.5ms latency make it the best competitive gaming monitor on this list. The monitor is minimalistic and focuses on the ethos of competitive gaming. Seeking to provide those minute advantages to the players.
At 1080p the monitor and 27 inches the monitor make its niche as one for competitive gaming clear. Since it's a TN panel it has a very low response time of 0.5 ms. Its design is minimalistic and even has removable flaps on the sides to avoid distraction while gaming. The build quality is premium with metal supports at the back over the plastic.
The monitor has no RGB lights for minimalism purposes. It substitutes that with useful features. Its black equaliser increases visibility in dark areas giving a unique advantage in tight situations. The DyAc+ feature reduces motion blur while its nifty headphone hanger is a handy little feature too.
BenQ monitors also come with a 3-year warranty in India. The monitor is fully adjustable in height and tilt. It also swivels up to 90 degrees allowing for ergonomics and comfort while gaming. The S-switch is also a handy feature that allows you to switch between monitor profiles. It also comes with 2 USB ports.
BenQ MOBIUZ EX2710R
📶 CONNECTIVITY: HDMI 2.0 x 2, DP 1.4 x1, USB 3.0 x 2, and USB Type B x 1
The BenQ MOBIUZ EX2710R is for anyone and everyone looking to go past the usual. Its curved display provides an all-new viewing experience. It retains all the premium features of a high-end gaming monitor while providing a new immersive experience. Its major plus points are its refresh rate, response time and pricing. Easily the Best Curved Gaming monitor in India under 40,000.
Its 27-inch display has a 1000 millimetre curvature radius. Similar to the curvature of the human eye. It can be viewed from a distance of 1 metre only. Much better than the 1800R and 2000R curved displays on the market. While it's all a question of preference between flat and curved monitors, the curved display does create an immersive experience and is much more than a novelty. The 1ms refresh rate and 165 Hz refresh rate combine to create a flawless and consistent gaming experience.
The Monitor comes pre-loaded with AMD Freesync Premium Pro enabled. It is also compatible with Nvidia G-sync. BenQ's HDRi adaptive technology synergizes with a Black equaliser and light tuner to give a competitive advantage and create an immersive experience. These effects provide good contrast and colour saturation while gaming. Useful for both competitive shooters and RPGs. The monitor does not feature any RGB lights.
It features an ergonomic stand along with height, tilt and swivel adjustability. With a 3 years warranty as well in India the monitor is on par with all competitors in performance and service. The bottom line is totally on the individual's preference between a flat and curved display.
---
You've already checked our Top 3 Picks of Best Gaming Monitor Under 40000 Rs in India!
Did you find your best pick? If not, check more gaming monitors below…
---
Samsung Odyssey G7
The Samsung Odyssey provides a never before experienced 240 Hz refresh rate in a VA panel with a 2560x1440p display. Thus enabling the sharp contrast of a VA monitor along with minimal motion blur. Its 1000R curved display along with backlighting gives it a futuristic look. Samsung has branded it as a VA panel with TN speed. It surely is a contender for the best-curved gaming monitor in India.
It is a 27-inch display with a 240Hz refresh rate. The VA panel offers sharper contrast than IPS and TN panels. Its 1 ms response time is up to speed with pricier competitors and as good as the faster gaming-oriented IPS and TN panels. The real gaming experience does not feel any different from a VN panel or IPS panel.
The monitor comes with FreeSync premium pro and is compatible with the Nvidia G-sync pro. It comes with RGB illumination at the back with 5 different profiles. It also has 2 RGB zones on the sides at the bottom. The monitor stand is huge and takes up plenty of table space.
The Samsung Odyssey G7 features a full range of tilt, swivel and height adjustments. The monitor is usable even in portrait mode. It comes with a warranty of 12 months and an extensive network of Samsung service centres that promises good customer service throughout India.
LG 34WP65C
Going a step beyond curved displays the LG 87cm ultra-wide curved gaming monitor tries to create an all-encompassing experience. Its huge 3440x1440p ultra-wide display provides great viewing angles along the periphery. It is a generalist monitor suited for gaming and work both. While competitive gamers might prefer faster TN and IPS displays, it works perfectly well for most casual users.
It is a 34-inch monitor with a 3440x1440p 2K display. It is a VA panel with sharp picture quality courtesy of its 3000:1 contrast ratio. With a 1800R curvature, it provides larger viewing angles than the previous 2 curved monitors on this list. Although it naturally requires larger and deeper desk spaces for comfortable viewing. At 160 Hz with a 5ms response time and 300 nits brightness, the monitor works for RPGs and games like Fortnite, COD perfectly well however competitive Counter-Strike players might prefer faster gaming monitors.
The monitor has AMD FreeSYnc Premium Pro enabled and is compatible with Nvidia G-sync. It has dual HDMI and display ports with a 3.5mm earphone jack and a single port for a power cable. LG has also given an HDMI cable with the monitor, adapter and power cable. It also has a black equaliser.
The monitor is available with a 12 months warranty in India. It can be raised to a height of 110mm with a -5 to 20-degree tilt and swivel adjustment. The stand is ergonomic and easy to install, but very spacious.
Acer Predator XB-271HU
Launched 5 years ago, the Acer Predator XB-271HU has stood the test of time. A monitor dedicated to gaming has a 2K display with 144 Hz(can be overclocked to 165 Hz). It sports a well-built design with thin bezels and a strong structure. With Nvidia, G-SYNC enabled it is a good old trusted monitor with a cheaper price if any of the above monitors don't work for you.
It is a 27'' monitor with a 2560x1440p IPS display and 144Hz refresh rate. It has good wide viewing angles. The response time is 1ms. It does have solid build quality. With a maximum brightness of 350 nits, it can hold its own in dark areas despite not having HDR. It has a USB 3.0 port, display 1.4 port and HDMI 2.0 port.
With Nvidia G-sync it easily avoids image-tearing and motion blurring. The backlights are LEDs. The menu buttons for the monitor are situated in the front of the monitor and thus much easier to find.
It has a healthy 3 years warranty from the manufacturer. The stand is ergonomic and can be adjusted easily to a height of 120mm. It offers a wide range of tilt movement between -5 and 35 degrees as well as 90 degrees of pivot. It also features a 100×100 VESA mount at the back for using third party stands or mounting on walls.
LG Ultragear 34GL750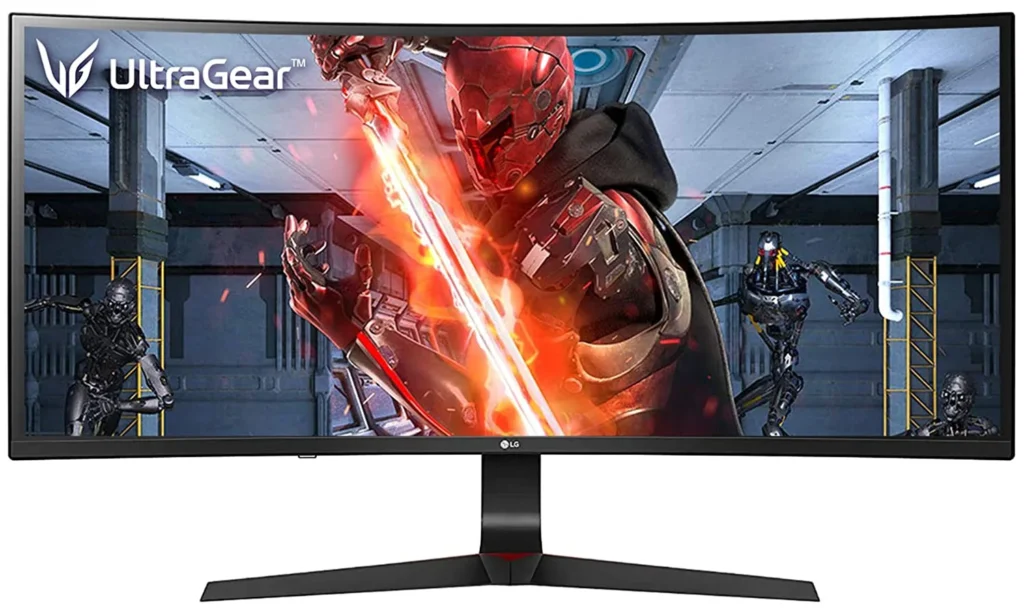 The LG Ultragear 34GL750-B offers a budget option in an ultrawide curved display. Primarily for gaming, it is the cheapest ultra-wide display on our list. While it does have a lower pixel resolution of 2160x1080p it makes up for it with its 144 Hz refresh rate IPS display with up to 400 nits of brightness.
It is a 34 inch ultrawide curved IPS display monitor with 2160x1080p resolution. It has wide viewing angles and a display that provides plenty of room for work. It has a response time of 4ms which is fast for an ultra-wide monitor. The build quality is good with a sturdy and ergonomic design that tries to take minimum desk space. It has 2 HDMI ports, 1 display port, a 3.5mm earphone jack and one power plug. It does not feature a USB-C port.
The monitor is compatible with Nvidia G-sync and AMD Freesync. It also has LED backlights. The monitor does not have any in-built speakers. The bezels are thin and along with the red accents on the side give the monitor an aesthetic look.
The monitor features a 3-year manufacturer warranty. The stand occupies minimal space and can be used to adjust height efficiently. While there is a degree of tilt rotation the monitor does not have any swivel motion sideways. Its 21:9 screen ratio provides a great viewing experience and is the monitor's chief selling point.
Asus ROG Strix XG248Q
The Asus ROG Strix 23.8 inch gaming monitor has a 240Hz TN panel and 1ms latency. It combines a stylish Dark grey and red look with an enviable spec sheet to create an aesthetic monster for gaming. The customizable projections and AURA RGB lighting at the back complete its nifty look. The only concern might be its 23.8'' size compared to the usual 27'' at this price range.
It has a 1920x1080p FHD resolution TN panel. With a refresh rate of 240Hz and 1ms response time, the monitor is ideal for competitive gaming. Any user of the monitor gets that milliseconds advantage vital in FPS games. It has dedicated gaming modes for FPS, MOBA and RTS games.
The monitor is compatible with Nvidia G-sync and Freesync compatible. It has dual USB 3.0 and HDMI 2.0 ports along with a 3.5mm headphone jack. The silver RGB ring behind the monitor has RGB lights on it and can be customised with AURA RGB lighting. The RGB lights synergize interactively with the RGB lights on other Asus ROG products. The three-legged stand has a customisable light hovering below it.
It has a 36-month local warranty. The stand is ergonomic and has red accents on the side which give it an aesthetic look. It offers a full range of monitor height, tilt and swivel adjustments. It also comes with different blue light filter modes for eye protection.
LG Ultragear 32GK650
The 32GK650 is a VA panel in LG's Ultragear monitor series. It is a 32'' display with a 2560x1440p display with a refresh rate of 144 Hz. Primarily designed for gaming it offers a very budget-friendly option with the contrast of a VA panel. If you are looking for a monitor above 30 inches this is a viable option. Its great price makes it a steal to not miss out on.
It offers a 32 inch VA display with a 2560x1440p display. It has a response time of 5ms and a 144 Hz refresh rate. The monitor is ideally suited for casual and semi-competitive gamers looking to enjoy scenic AAA titles on a 32-inch 2k display. Its 350 nits brightness is enough for most practical situations.
The monitor has AMD Radeon FreeSync enabled and is also Nvidia G-sync compatible. It also does not feature any in-built speakers. The monitor has thin bezels and is aesthetically coloured in black and red.
Like all LG monitors the device comes with a 36 months warranty. The stand is ergonomic and occupies as little desk space as possible. The monitor also features a full range of height, tilt and swivel adjustability.
ASUS TUF VG289Q1A
Asus brings a 4k gaming monitor to the Indian market at an affordable price with this product. It has a resolution of 3840x2160p for its IPS panel. It is available in 28'' and 32'' variants. And bring to the table a 4k gaming experience at 60 Hz as its USP. It brings to the fore a DCI-P3 90% colour gamut commonly used in TV sets.
It has a 28 inch IPS panel with size and 3850×2160 UHD 4K resolution. The viewing angles range from -178 to +178 degrees. The response time is 5ms with a refresh rate of 60 Hz. It is the cheapest dedicated gaming monitor with a 4K gaming experience currently available in India. It has a maximum brightness of 350 nits. It features 2 HDMI ports, a Display Port and a 3.5mm earphone jack.
Its performance is enhanced by AMD FreeSync technology and is easily compatible with Nvidia G-Sync also. It is compatible with HDR10 and provides good illumination in most situations. It is ably supported by the Aura ecosystem software.
It has a 36 months warranty. The ergonomic stand can be used for height adjustments up to 120mm. With full tilt and swivel adjustability the monitor packs in all the features of a premium gaming monitor with a 4K viewing experience.
Conclusion
If you've checked the above list, you must have come across the best gaming monitor under 40000 that you can buy for a better gaming experience. This list of gaming monitors has been curated based on the best specifications and verified reviews on the web.
If you're looking to buy a gaming monitor under 40k and still have a question in your mind you can reach out to us by commenting down below.
Regardless of the purpose, a gaming monitor should be bought by looking at some of the important factors – you can also check out my guide to buying a gaming monitor.
While buying the gaming monitor, make sure you get the best deal by checking our offers page on the website. If you have any doubts and quires, feel free to connect with me through our social media handles.
Until then, Happy Gaming 🙂