Looking for the best monitors under 8000? You don't want miss on these monitors under 8k Rs – I've spent countless hours so you can buy the best value for money monitor under this range.
Whether it's the best dell monitor under 8000 or a samsung monitor under 8000 you are looking for, I've curated the list of best monitors based on the panel type, resolution, and pros and cons of each monitor in this list.
In a hurry?
Top 3 Picks for Best Monitors Under 8000
LG 22MK400H : Best Monitor For Gaming Under 8000 (Overall)
Acer Aopen 22CH1Q : Best Monitor Under 8000 (Daily Use)
Acer Nitro QG221Q : Best IPS Monitor Under 8000 (Display Centric)
If you still have any questions regarding which is the best monitor under 8 thousand rupees, feel free to comment down below. Also, I've shared some useful links for you 🙂
10 Best Monitor Under 8000 in India 2022
LG 22MK400H
Best Monitor For Gaming Under 8000
There's not a lot of things that you can get under this budget range. Maybe you are right to think that, but, with LG's 22MK400H – expectations are met quite literally.
Here's what I mean with that; with LG 22MK400H you get a stunning 1080p display and by the way, this can also be the best 1080p monitor under 8000 that you can buy today. Nevertheless, if you are here for gaming, this monitor ticks all the requirements for delivering a decent gaming experience if you want.
With a 75hz refresh rate, and 1 millisecond response time backed with AMD's FreeSync technology, this monitor is by far the best gaming monitor under 8000 Rs in India.
Positive
Best Monitor Under 8000 for Gaming
Good for office use and viewing content
Value for Money
Backed by LG's 1-year warranty
Negatives
TN panel – poor viewing angles (alteast on budget LG monitors)
Check the video : Indian Budget Gamer
Acer Aopen 22CH1Q
Best PC Monitor Under 8000
Acer wasn't really known for "best budget monitors" before – but the Indian market demands both price and quality – so here we are.
If you are new to buying a budget monitor, chances are you might be knowing a few brands like Dell or Samsung, but let me tell you; Acer is one of the leading brands in the monitor segment today. I have already mentioned some detailed reviews about the best gaming monitors under 15000 – and you can check the winner out there by yourself (woosh, it's from Acer!).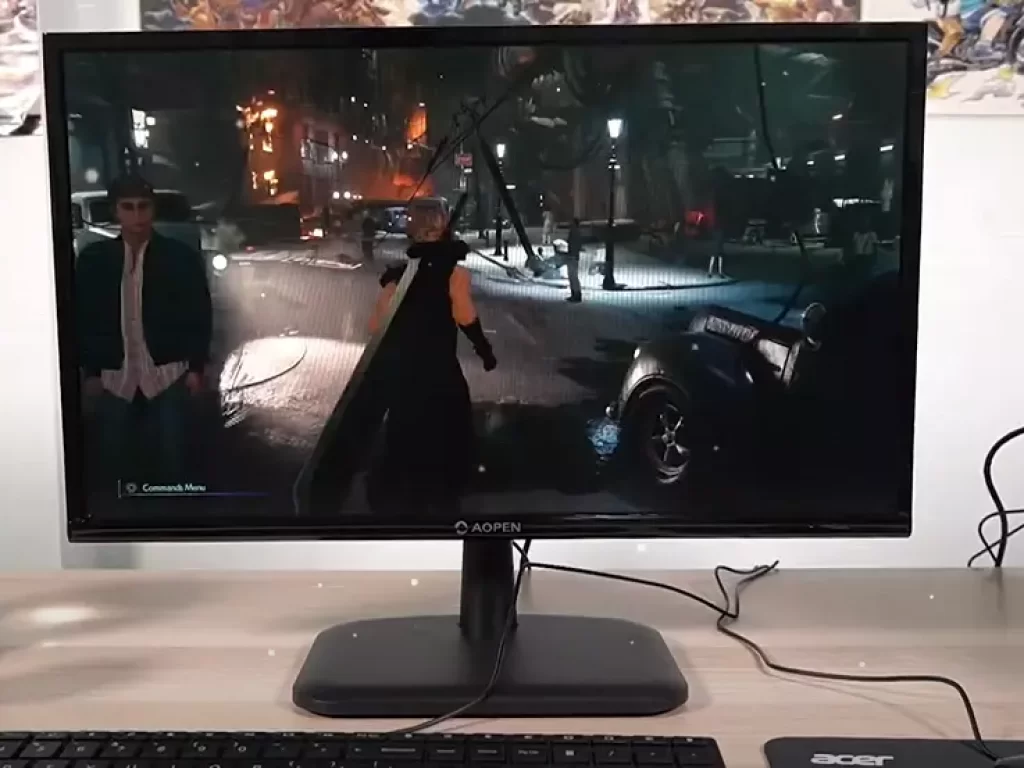 The Acer AOPEN 22CH1Q is a 21.5 inch Full HD backlit LCD monitor. With 60hz and 5ms of response time – this monitor might not be the best in terms of gaming, but if you want something for the office and professional use, definitely consider this one from Acer.
Is Acer AOPEN 22CH1Q an LCD or LED Monitor?
While you must be confused by checking the descriptions on E-commerce websites – thanks to the sellers who misguide customers with the unique and not so cool marketing techniques, let me clarify things to you. The Acer AOPEN 22CH1Q is an LCD Monitor.
Positive
Best Monitor for Office Use
HDMI & VGA Ports with Cable
Superb picture quality
Negatives
Poor Viewing angle
Build Quality reflects pricing
Acer Nitro QG221Q
Best Monitor Under 10000
I know some might be like – Hey Harsh, why did you add a monitor under 10000? Well, well, I know, and I am not mistaken either.
The Acer Nitro QG221Q can be bought for under 8000 Rs during sales – and that's the reason I've mentioned this monitor in this list. Check the latest offers on this monitor here.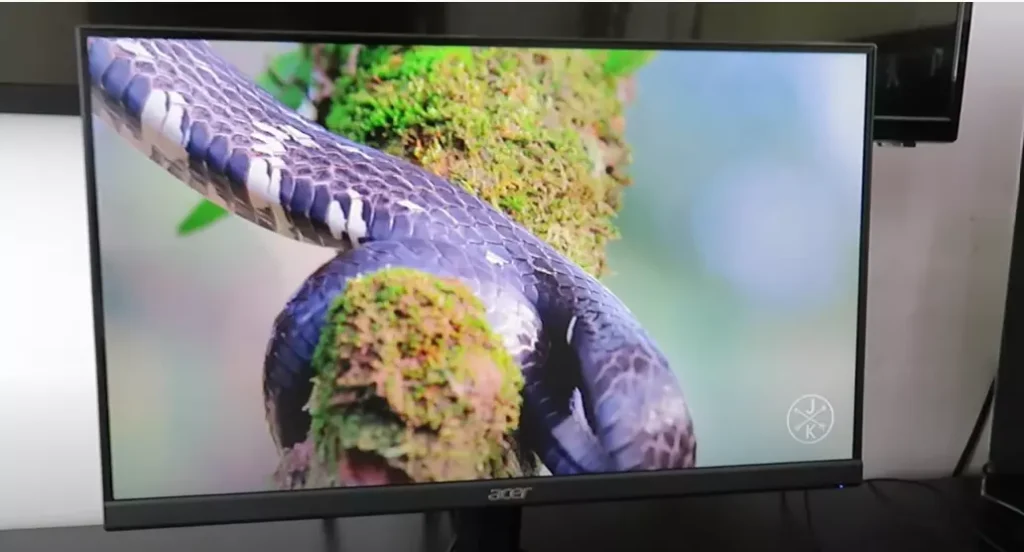 Talking about the specs of this monitor the monitor offers pretty high specs for the price you're paying. You won't have any regrets whatsoever in terms of gaming on this monitor – a full power-packed 75hz refresh rate, 1ms response time, and bezel-less display is enough to fulfill every wish under 10,000 Rs.
Positive
Best Gaming Monitor Under 8000
VA Panel (Better than TN)
Comes with a VGA and HDMI cable
AMD FreeSync
Negatives
72% sRGB color gamut (not for designers)
Monitor wobbles slightly
---
You've arleady checked the Top 3 Best Monitor Under 8000.
Still not convinced? Scroll further….
---
AOC E2270SWHN
Best IPS Monitor Under 8000
It's not been long that AOC has entered into the budget monitor segment in India – but, they have become one of the leading manufactures of monitors under the range of 20,000 Rs.
Looking at the specs sheet of AOC E2270S, there is nothing much impressive – but when you look at the monitor itself, it has this amazing IPS panel on the front that delivers some of the best viewing angles you can find in any of the monitors in this list.
The 21.5 inches LED display is a perfect size for office and professional use, and there is not much room for complaints here aswell. Overall, if you are on a tight budget and want the best monitor under 8000 for video editing, this one is for you.
Positive
IPS Monitor Under 8000
Good for Professional Use
Perfect size at 22 inch
ViewSonic VA2223H
Best Monitor Under 8000 For Editing
Look, not many people prefer buying a monitor that looks cheap but has all the necessary specs (maybe higher than what others can offer) – and if you are someone who can compromise a little on specs but wants amazing build quality, congrats, ViewSonic has entered the chat!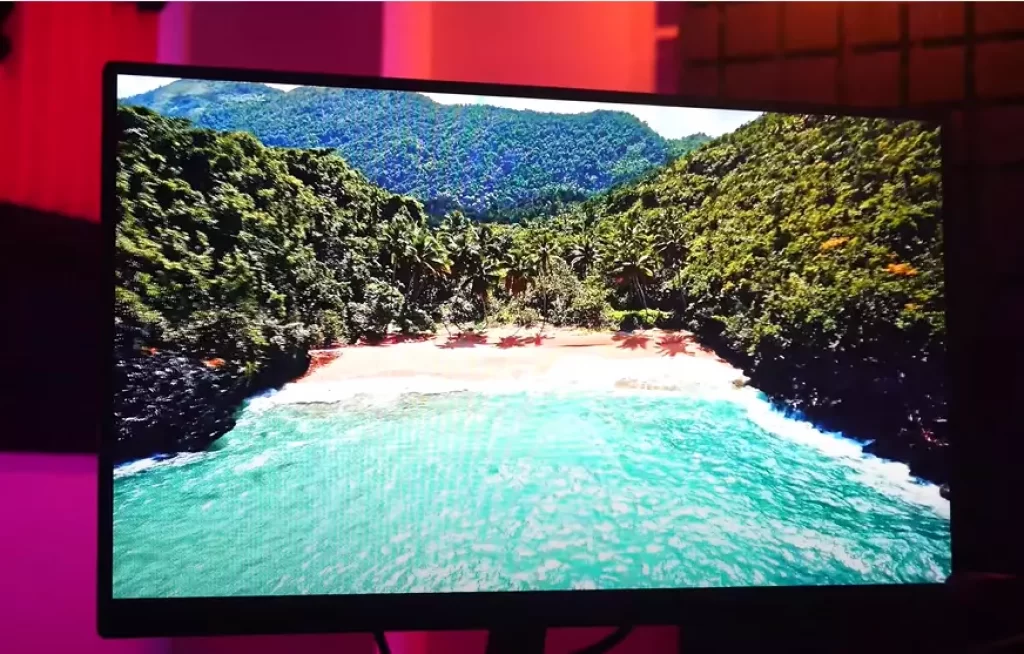 With ViewSonic VA2223H, you get a 22-inch display, with 102% sRGB (great for video editors and designers), a FlickerFree filter, and on top of that, an amazing build quality overall.
The only downside I see with the ViewSonic is its panel type, with the VA panel, this just puts the "great viewing angles" criteria aside. But overall, if you are still okay with the panel type, there is nothing you can expect more at this price range.
Positive
102% SRGB
Flicker-Free technology
Solid Build Quality
Negatives
VA Panel (come on, give us at least an IPS panel)
Huges Bezels
Dell E2016HV
Best Dell Monitor Under 8000
A lot of enthusiasts still looking out for the best dell monitor under 8000 – I can't complain about this. Dell is known for its legacy on building some of the most durable, value for money components in the PC market till today.
And, if you're looking to buy a dell monitor under 8k Rs in India, you can't get a better monitor than Dell E2016HV. It is a decent-looking monitor with huge bezels (of which I am not a fan of), reminds me of my childhood playing video games on a bezel-full display of that time.
The viewing angles are decent on this 19.5-inch monitor, and is great if you are looking to upgrade monitors at office or for professional work. Needless to say, this monitor is not meant for gaming, think twice before putting in your money here just for gaming. That will result in gambling, for sure.
Positive
Dell's Customer Service
Better than previous gen Dell Models
Consume less power
Best Dell Monitor Under 8000 in 2022
Negatives
Over bright, and over contrast
Poor Viewing Angles
ASUS VZ229
Best Monitor Under 8000 For Work
If you are into video editing/ photo editing, you must be aware of the importance of panel time while buying a monitor. Especially when color and contrast matter to you the most.
The Asus VZ229 comes with an IPS panel, 60hz refresh rate, and 5 ms response time – but that's not everything about this monitor. It has a great 1080p display, with great viewing angles, amazing picture quality, and on top of that, it also comes with inbuilt stereo speakers.
If you are looking for a monitor under 8000 for office/work, the Asus VZ229's bezel-less design and features are just right for you.
Positive
Monitor with IPS panel under 8k
Amazing 1080p display
Monitor Under 8000 with in built speakers
Best Monitor Under 8000 for Office Work
Negatives
No HDMI cable inside the box
Poor sound quality of speakers
ACER K202HQL
Best LED Monitor Under 8000
Budget monitor under 8000 with Speakers? Really? The Acer K202HQL comes with inbuild Stereo Speakers speakers!
If you are on a tight budget and don't want to put your money on buying external speakers for your system – here's the biggest cost-cutting scheme. Buy an Acer K202HQL (from my link of course <3)
The monitor comes with all the basic features one would want in a 19.5″ LED Monitor, it comes with HDMI & VGA Ports, a 60hz refresh rate, and a decent 5ms response time.
Look, when you're purchasing a budget monitor – not all features may come in a single monitor. Brands do this intentionally. Know your requirements and buy the product based on that.
Positive
Value for money
HD display under 8000
Decent for office work
Negatives
LCD display
Poor build quality with low specs
Samsung LS22A
Best Samsung Monitor Under 8000
While Samsung mobile is known for their display quality – sharp, vibrant colors and high brightness, the budget monitors are nonetheless the same. And, Samsung's LS22A334NHWXXL is no exception.
Look, this 22-inch monitor is aimed at being the best Samsung monitor under 8000 anyone can buy in the Indian market today. What's so best about this monitor? Well, the display itself.
Talking about the specs, it offers a VA panel with a 60hz refresh rate which is good for daily professional use. About colors, they are sharp, vibrant, and crisp as any other Samsung screen. If you're a fan of Samsung, this can be the best Samsung monitor under 8k for you.
Positive
Best Samsung Monitor Under 8000
LCD Display
Awesome customer service from Samsung
Negatives
6.5ms response time in 2022
Renewed Models at this price range
PHILIPS 221S8LHSB
Best Monitor Under 8000 With FreeSync
As you checked all other options in this list, you must be looking for something the has piece of everything. This monitor decent for gaming, programming, and also for editing. The Philips 221S8 is that kind of monitor under 8000 Rs.
This 21.5-inch monitor comes with a TN panel which offers sharp and crisp images – good for watching content online, and also the Color calibration on this monitor is beyond justified by its price. It comes with a 60hz refresh rate, and 4ms response time – not the best one for gaming, but decent enough for the price.
Overall, if you want something that is equally good for editing, programming, and gaming – Philips 221S8LHSB is for you.
Positive
Best Extended Monitor Under 8k
Value for money
Bezeless display at this price point
Best Monitor as a secondary monitor for office work
Negatives
Mediocre Reviews
Poor viewing angles
Conclusion
Buying a budget monitor can be tricky, because not only do they look cheap and compromise on important features, they are even advertised with specs that they don't come with! – Yes, read that again.
It's important to research thoroughly and then press the buy button before choosing the best monitor under 8000 or any other budget segment.
Consider this super formula while buying the monitor under 8000 in India 2022 –
Select monitor based on your preference
If you're looking for the best secondary monitor under 8000 choose something that has the better build quality and decent viewing angles. Similarly, if you are into video editing, panel type, and picture quality should be the most important aspects while choosing the monitor.
Check Reviews, A little Smarty
Brands know that you check reviews before buying anything here in India. Especially when it comes to the budget segment. If you don't check reviews and know the basic difference between a fake and a legit review on e-commerce sites – you have likely been hooked in the trap!
Ninja tip to know if reviews are fake or not: Follow Gaming Nation on Instagram!
Know the Specification
This is new trick sellers do on some of the e-commerce sites nowadays.
Just imagine, you've recently purchased the monitor from a trusted e-commerce site and the specs are what made you hit the buy button. What if I tell you, the seller who put the specifications are wrong and monitor with different model and features is shipped!
While some trusted e-commerce sites would take the return happily, what if they don't? Be aware of this, and always take a few minutes to confirm the model name with the description from the brand's official site.
---
While this is the most you should know while buying the best monitor under 8000 in India 2022, if you still have any questions regarding this, please let me know in the comments down below.
At Gaming Nation, we're dedicatedly looking to serve Indian Gamers with the latest and unbiased information.