Nagpur is a well-known city in Maharashtra. The town is famous for many things (particularly its oranges). In recent years, Nagpur has seen many gaming cafés across the city. The city is no stranger to the gaming culture but has seen a sustainable gaming crowd snowballing.
The gaming cafés allow gamers to come together and enjoy their favorite games in a social setting. Gaming cafés are a great way to meet new people and learn some new gaming tricks, and they can also be a great source of competition. Many gaming cafés organize gaming tournaments.
If you're looking for a gaming café in Nagpur, you have plenty of options in this city. Check these gaming cafés in Nagpur, and you will be surprised by the quality of some of these cafés.
Top 5 Best Gaming Cafe in Nagpur
BARCODE e-Sports Lounge
Starting our list with BARCODE e-Sports Lounge, this place is decent, especially for first-time gamers. The ambiance is excellent, and one good thing is that this gaming café is Nivida Certified, which means all the rigs have Nivida Chips.
The café is very affordable, with starting price of ₹60 per hour for a 144Hz setup. If you want an even higher refresh rate, you'll have to shed around ₹80 for a 240Hz form. All the rigs here come with Core i5 and GeForce GTX 1050 Ti. This setup is more than enough for a satisfactory gaming experience.
The ambiance is superb with great lighting and is fully air-conditioned. The gaming café opens at 6 in the morning and stays open till 11 at night. The café also offers some e-Sport-based tournaments so you can showcase your skills to the whole city.
You'll indeed have a good time at BARCODE e-Sports Lounge. BARCODE e-Sports Lounge is among the most excellent places to game in Nagpur.
Levels Gaming Lounge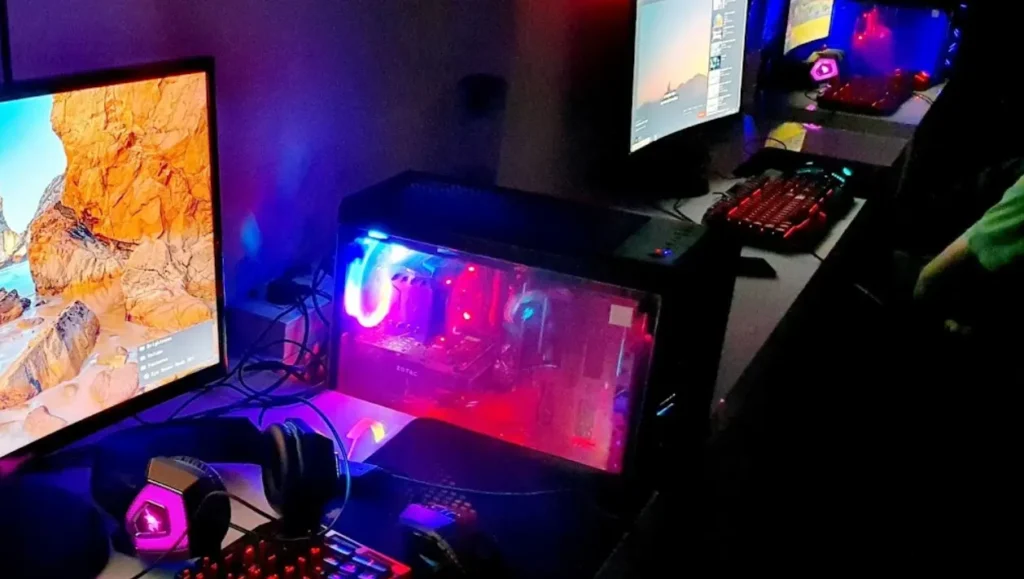 Take a step inside this place, and you'll be surprised. The whole ambiance doesn't feel like a typical gaming café and is super laid back and cozy.
You'll meet with a huge pool table, comfortable sofas, and your standard consoles setup. Move forward and enter the gaming section, and you'll see a different world.
Their gaming library is vast, so you'll easily find your favorite title and would love to discover some new and excellent titles. And if you feel hungry and want to munch on some snacks, they cover you with cheap and tasty food options.
They also make gaming PCs at decent rates, so that you can get your gaming PC here. Talking about the gaming options, you get a diverse choice as you'll get PS4, PS5, and PS VR, all to give you the ultimate experience.
Lastly, suppose you want to watch a movie at a private theatre. In that case, you'll be surprised to know that you also get a personal theatre service at Levels Gaming Lounge.
Here you want quickly watch anything you want (Netflix, amazon prime, and more) for an affordable price.
If you're going to party, then you'll they got you covered with a big party hall. So we can confidently say that Levels Gaming Lounge is not just your typical gaming café but more than that.
CYBERCITY GAMING ZONE
This gaming cafe is quite different from a typical gaming café. It lacks the ambiance and the vibe of a typical gaming café.
But this doesn't mean that this place is not worth checking out. From Wi-Fi hotspots to gaming, you'll experience being in a rushed and vital place. Here you'll get an hour of super-fast Wi-Fi hotspot with no limit on data for an hour for just ₹20. So if you want to download any heavy file or game, you can come here.
There are also services of printing and copying at an affordable rate. For gaming, you'll get a PS3 for just 40₹ per hour. But know that this place is not a typical gaming café, and you won't find this place very appealing. The site is strictly average.
You can say that this place is especially for those who want to do some work from a cyber café and have some extra time to kill, but know there are better options available in the city.
NOWAY GAMING ZONE
Another gaming café in the city of Nagpur, if you're looking for a gaming café with a focus on tournaments, look no further. Welcome to the NOWAY GAMING ZONE; they are a gaming café that offers a wide variety of games and tournaments for all levels of gamers.
This aspect of this café makes it unique from the other places as tournaments are still not very common in many gaming cafés in our country.
The café is focused on console gaming, so you'll only find consoles here with prices ranging from ₹60 per hour for PS3. You can also bring your whole squad here, and for just ₹150 an hour, around four players can have a blast at NOWAY GAMING.
If you are a frequent gamer, you can also take their membership and enjoy gaming at discounted rates. They have a comfortable and welcoming environment.
So if you're looking for a gaming café focusing on tournaments, noway is the way to go. The food is cheap and the best among the many gaming cafés in Nagpur.
MANISH GAMING ZONE
The last gaming café among the top 5 in the city of Nagpur, the MANISH GAMING Zone, is a type of gaming café with no focus on ambiance but on providing a cheap and quick experience.
Another budget-friendly gaming zone, where you'll get an hour of the latest console (PlayStation 4) for just ₹40 per hour. There are few PCs here, but the PlayStation setup is quite nice.
The ambiance is non-existent, but if you are one of those who are more of a focused gamer, then you'll have an excellent time being here. The owner is a nice guy and is very helpful with the gamers.
The downside of this place is that there are not very options available. As this place has no vibe, many gamers (especially new ones) may have a hard time gaming here. They might find this place a bit boring.
But still, for your price, this place is a good option for budget gaming.