Are you looking for a best gaming cafe in Pune? First, make sure to check out the different cafes that are available.
Our list has some top-of-the-line gaming cafes that will let you experience the best gaming.
All the cafés here have been carefully selected to give you the best of the best. You're sure to find your perfect dream gaming café from the list below.
Here are some of the best options available in Pune for you to consider.
10 Best Gaming Cafe in Pune (Updated List)
Vortex Gaming Lounge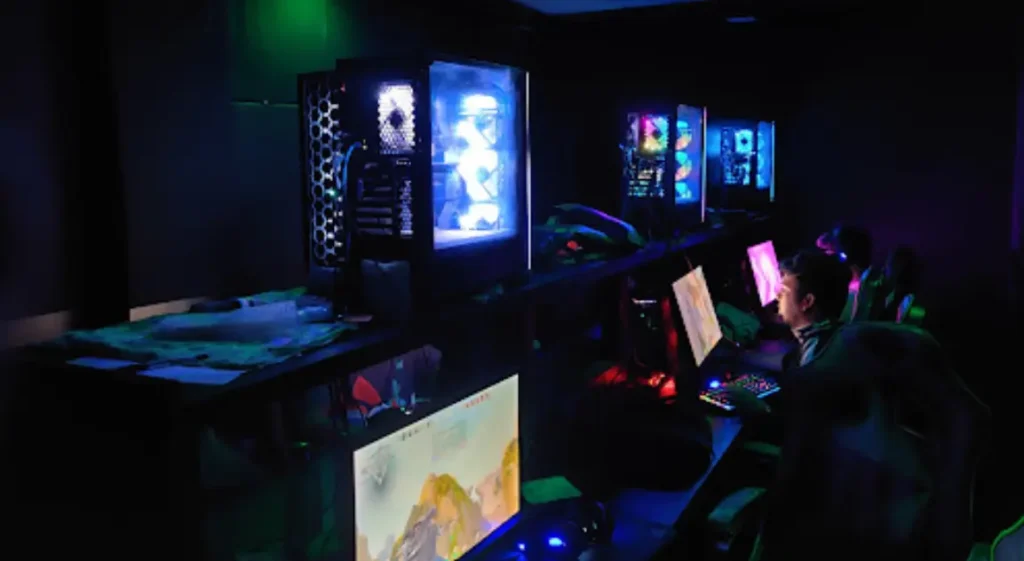 Vortex Gaming Lounge, justifying its name, is a vortex of good gaming. A relatively more prominent place, Vortex is a decent player in the gaming café scene of Pune.
Here you'll be welcomed with rigs having a monstrous 12th Gen Intel Core i7, RTX 3060TI, and fantastic 280hz gaming monitors.
You'll find mechanical keyboards and gaming mice from Logitech, Cosmic Byte, Ant-Esports and more. Also, Asus's 280hz 27-inch gaming monitor with G-SYNC enables you to enjoy 4k gaming without any problem whatsoever.
Overall, this place is incredible with comfortable seating, and everything is well organized here, so you can focus on the gaming without worrying about anything else.
One inside tip, book your slot before arriving here, as you'll find this place packed with Gamers 😉
Rapid Rounds
One of the most famous gaming places in Pune, their gaming setup is substantial, with both 144Hz and 240Hz monitors available for good gaming.
With GTX 1070 & 1660ti graphics, you'll have a good time killing those opponents in COD. Even the accessories are high-end. Here you get the PlayStation Pulse 3D headset for immersive and high-quality audio for a good gaming experience.
They also give you hour-based packs, so if you want to have a whole day of gaming, you'll need only to spend ₹200 for 8 hours on a 144hz monitor.
You'll get PlayStation (4 and 5) and Xbox for console-based gaming, and if you're finished with conventional gaming, you can test your reflexes and skills at a pool table for just ₹200.
They also provide essential snacks, so being hungry is not an option here. If you are in Pune, give it a shot at Rapid Rounds Gaming Café, and you'll surely be amazed.
Intencity
One of the most famous gaming cafes in Pune, this gaming café is perfect for bringing an entire squad. Here you'll find gaming rigs with different prices, from low-end budget-based options to extreme.
The place is open 24/7, and you can also order food if you want from wherever you want. The ambience is remarkable, with excellent lighting and a rather cosy feel.
They charge a balanced amount of ₹80 per hour for both the Xbox and PlayStation 4 for console enthusiasts, and you can also play on PlayStation 4 with a projector for just ₹120 per hour.
So there's no doubt in admitting that Intencity offers you one of the best gaming experiences in the city of Pune. You can come here if you don't want to think much and need a good place with a gaming crowd, helpful staff, and good rigs. Try this place once.
Infinity
Moving ahead, we also have the Infinity Gaming Café. Infinity is among the cheapest gaming cafes in all of Pune. Here you get a satisfactory 144Hz-based system for just ₹40 per hour.
You can also go up the frame rate ladder if you want, but you will need to pay more. A good thing here is that you'll get a good discount, like for three hours, you get to shed only ₹100.
If you're planning to come here with your squad, you get an even cheaper discount at just ₹35 for an hour if you are here for more than two hours.
You have PlayStation here, and you might try some new titles with numerous games to play. The ambience is good, with essential lighting to give a decent theme to the café.
GGwellplayed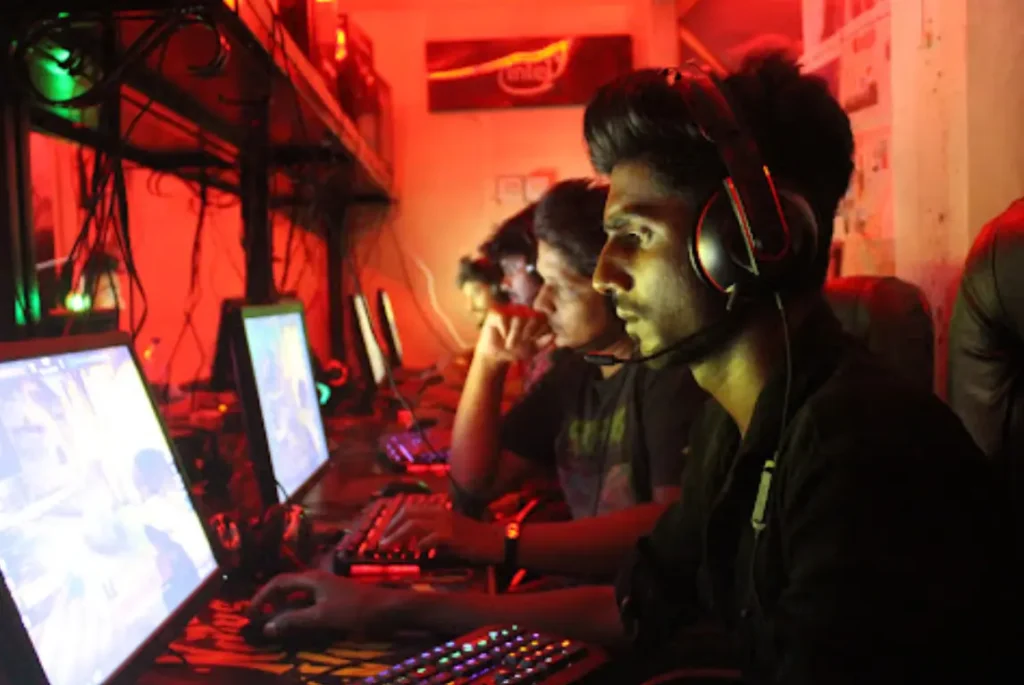 It is the cheapest place for gaming in Pune. You can have an hour of gaming starting at an unbelievable ₹30 per hour! It is for their lower tier (60Hz) but still a powerful rig.
If you crave power, do not worry; you will find systems here with Alienware monitors (240Hz) for smooth gameplay. And that's not all. They also have happy hours when you play from 8 am to 12 pm. You'll get your gaming at an even cheaper rate of just ₹25, which is nuts!
They also provide PlayStation 4 at ₹100 per hour. They also participate in various tournaments, so if you think you've got some skills and can surprise the world, you know where to reach out.
Furthermore, they also bring numerous types of deals. If you tag them in your story for the first time, you'll get an hour of gaming for free.
Overall, it can be said with enormous confidence that GGwellplayed is a gaming café for those who are low on budget but want every bit of a typical gaming café.
With OP rigs, and the opportunity to showcase your skills among other gamers, GGwellplayed Gaming Café is a place you must have on your list.
10X Gaming Lounge
One of the smaller gaming cafés in Pune, 10X Gaming Lounge, is still quite a nice place to check out. With the relaxed ambience, food, and cheap rates (₹50 for PC, ₹75 for PlayStation), the café is quite famous and is open till 11 at night.
They also have a pool table for you to play on. The setting of the café is superb, with all the latest and quality equipment available for a loaded gaming experience.
They also do tournaments from time to time so that you may get the chance to take your gaming to the next level. You'll also have food available at super affordable rates (do try their milkshakes), so you can have a bite while being easy on the pocket.
Gameflix Gaming Lounge
Just enter here and be ready to be transported into a funky cyberpunk world. This place is nothing like you've ever experienced before, and this place is as cool as an ambience can get with an excellent setup.
The atmosphere makes this place one of the most beautiful gaming cafés in all of Pune. Apart from that, you get your typical gaming setup with 144Hz monitors and a PlayStation 4 and a PlayStation 5. The staff is there for you, and the gaming Longue charges just ₹45 for an hour of gaming.
So you can give this place a try and try to be here with your squad. But before, know that you won't find gaming chairs but ordinary chairs, so are sure of that before coming here.
Invictus Gaming
Invictus Gaming has a wide range of delicious savouries. The ambience is essential with an excellent RGB setup with AC and good-quality gaming chairs.
Another plus point is the 7.1 audio-supported headphones for an immersive and realistic gaming experience. The café has focused on having quality gaming accessories, so you have a fantastic time.
The rigs are of two types: RTX 2060 coupled with 240 Hz monitors and the GTX 1050ti with 144 Hz. Check this place if you are hunting for the best gaming cafes in Pune.
Go Gaming Café
Another excellent café with a relaxed ambience, Go Gaming Café, is a great place for gamers to hang out.
Excellent service with good rigs. You'll also have a great time here if you are a fan of multiplayer gaming, as the café boasts an experienced crowd.
The setup is easy to play on, and the café offers suitable accessories apart from, as mentioned before, good rigs and ambience.
Gamerz Nation eSports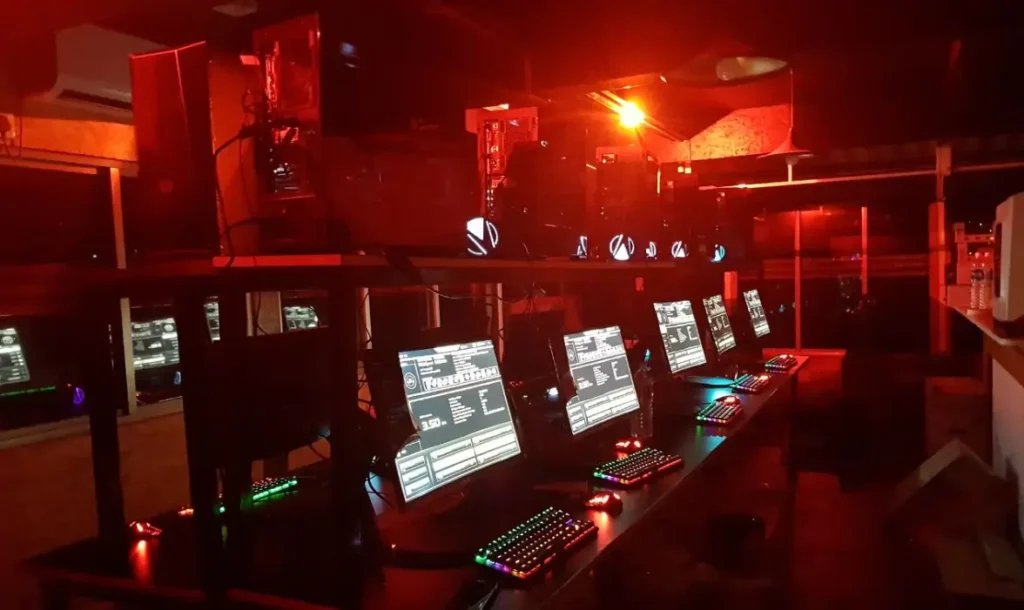 The last café on our list of the best gaming cafes in Pune, this one is a surprise for many. With a relaxed ambience, a great setup, and a specialized zone for PlayStation, Gamerz Nation Esports is a jack of all trades.
With over 20 gaming rigs and 2 PlayStation consoles, Gamerz Nation is all about the quintessential gaming experience. The rates are under control, and you can rent a console for just ₹500.
If you're a graphic designer and want full power, you know exactly where to go. With expertise in customized PC builds – this is more than just a regular gaming cafe in the city of Pune. So be sure to keep Gamerz Nation eSports on your list.