Gamer in Chennai? Check out these 10 Best Gaming Cafe in Chennai that every gamer wants to visit in 2023!
The city of Chennai is home to a very large and amazing number of gaming cafés, which are becoming increasingly popular with both locals and tourists alike.
Gaming cafés offer a unique and immersive experience that allows users to escape the outside world and enter a world of their own and the gaming cafes in Chennai are no different. The large options of gaming cafés make Chennai one of the most friendly places for gamers.
Whether you're a long-time professional gamer or a newbie, there's something for everyone at Chennai. So be ready and Check out these top gaming cafes in Chennai today.
Top 10 Best Gaming Cafe in Chennai
LXG League of Extraordinary Gamers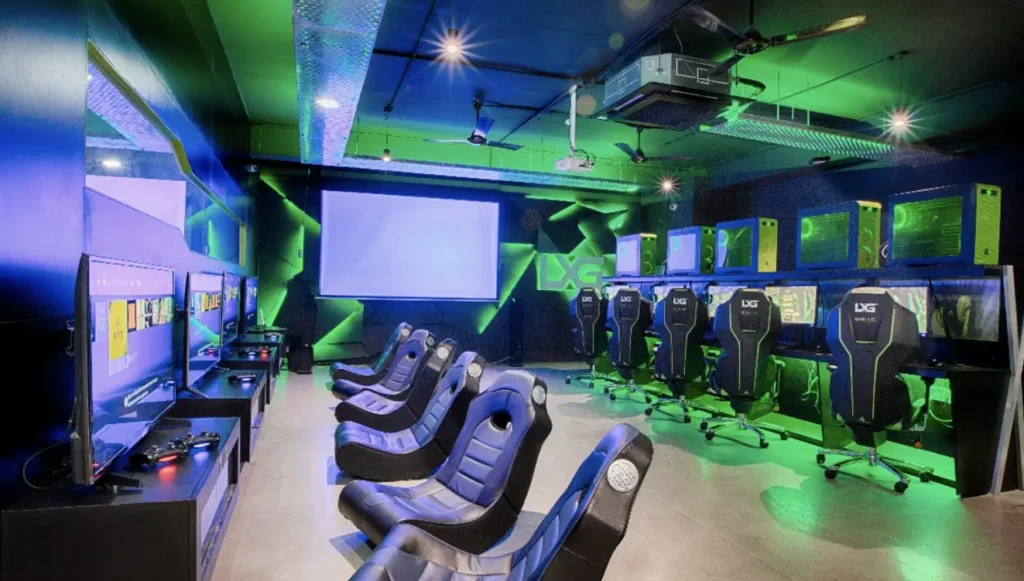 Starting our list with the first gaming café on our list, the LXG gaming café. Located in the Fortuna towers, this gaming center is one of the best gaming centers in Chennai. The café a picture perfect from the inside.
The ambiance is amazing with a futuristic theme layered with green lighting. There are PCs, PS4, and PS5 available for gamers. The price is capped at ₹80 per hour which is extremely affordable. The food is also available here so if you're hungry, they'll have you covered.
If you want a gaming café with especially with a cool and unique ambiance, you can check this café. It is very easy to reach so you can easily reach here without any problem.
ELITE GAMER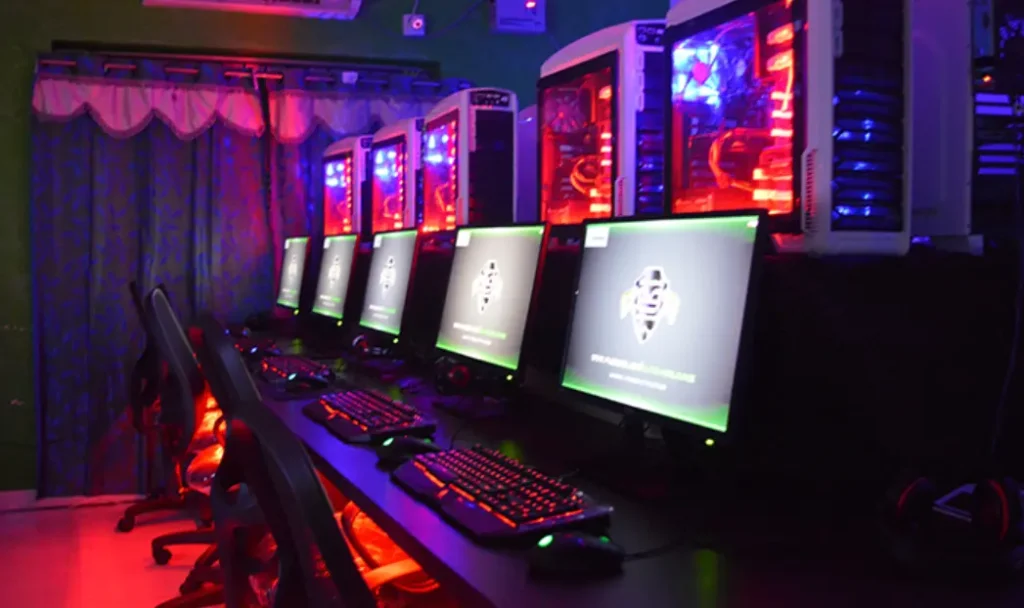 ELITE GAMER café is a uniquely designed gaming café located in Chennai, India. The café offers a variety of gaming experiences for visitors.
It is the perfect place for gamers of all levels to come and enjoy a gaming experience like no other. Apart from gaming, you also get some amazing food options. The menu includes delicacies like grill cheese sandwiches, some thick and delicious milkshakes, and other stuff.
You also have options of different membership by the café where you can go up to 50 hours of membership at discounted rates. The rigs are powerful with RTX 3060 and you also get Xbox and PS4.
Tagbot Gaming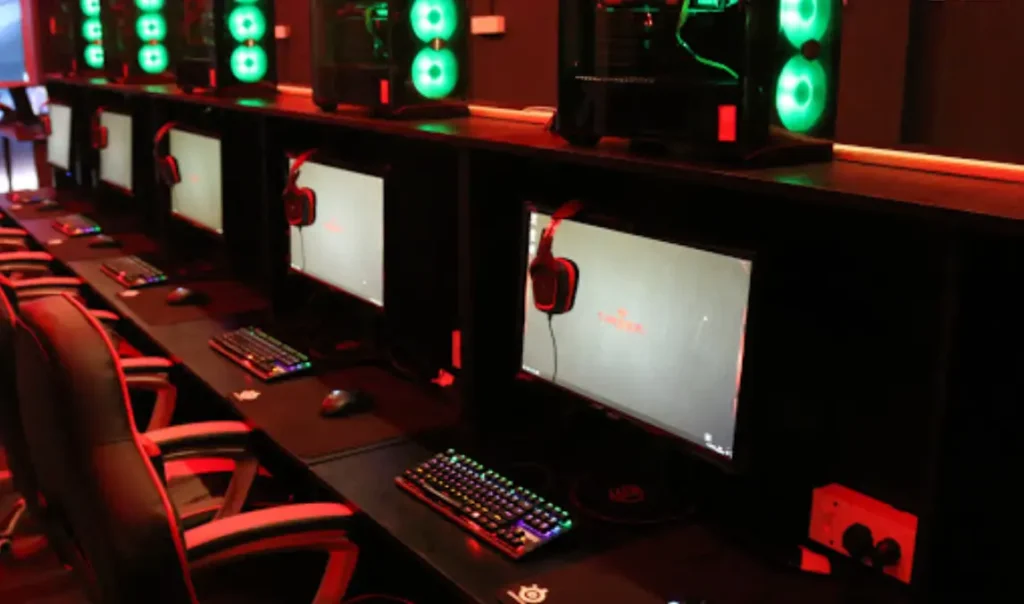 Another amazing gaming café with a cool name, you can get a good experience here. The lighting, the accessories, and the overall setup of the café are amazing. With 240 Hz monitors gaming setup and the option of PS4s, this gaming café is a good place to visit in Chennai.
A big plus point of this café which makes it certainly unique is the staff. They are quite helpful, especially with new gamers. Also as a PS4 gaming center, you get bean bags and good monitors even for PlayStation setup.
If we look at the PC gaming setup, we get good chairs and accessories, especially the gaming keyboards. The PlayStation setup is especially fantabulous, so check Tagbot Gaming Café if you are a more console-based gamer.
Ctrl VR
If you are fed up with your normal gaming cafés and want to try something different and futuristic, you can check out this place. A different café compared to the other ones on the list, Ctrl VR is a VR-based gaming café in Chennai that offers an amazing immersive gaming experience for its customers.
The café is equipped with top-of-the-line VR headsets and offers a variety of VR games for its customers to enjoy. Ctrl VR is the perfect place for gamers to come and enjoy a unique and exciting gaming experience. There are many different types of VR games available in this café so you have plenty of options available here.
If you're looking for something new and exciting to do in Chennai, be sure to check out Ctrl VR. They also give discounts from time to time so be sure to come here on time. If you are not a fan of VR Games, you can easily skip this café.
Chaos Entertainment
Chaos Entertainment is a gaming place that is a jack of all trades. They believe in providing a fun and welcoming environment for all gamers.
Whether you're a virtual gamer or a real-world sportsman, they've got you covered. They got all the latest and greatest digital games, as well as a variety of real-world games like soccer, cricket, and more. In a way, you can have the best of both worlds like if you're good at cricket then you can try your hand at DOTA 2 and vice versa.
There's a dedicated food section so you can get some decent food if you want to come here only to eat. This café is a unique combination of virtual and real gaming which is very difficult to find. Chaos is one of the most unique cafés so be sure to check this place as you would love to spend hours here.
REALITE GAMING CAFÉ
REALITE GAMING Café is a gaming café dedicated especially to children. A café where children can rejoice and have fun while playing games. The games available at the café are educational and entertaining for children.
There are also many driving-based gaming setups with steering controllers. The staff is dedicated to providing a positive and enriching experience for children.
REALITE GAMING Café is an incredible spot to play games, make new friends, and have fun. You also have the option of many VR-based games here so you can also check those out.
One thing to know while coming here is that this gaming café is centered around children so parents and normal gamers can find this place very boring as there are no options for them.
Gameistry Entertainment (Board Game Café)
Gameistry Entertainment is a board game café that has all of its focuses on board games. Sometimes we don't want to play virtual games and also don't want to play sports so this is when board games come into the picture.
They provide a wide range of board games for the customers to play, as well as a comfortable and inviting atmosphere in which to do so.
The café is the perfect place to socialize and have fun with friends, or to meet new people and make new friends. They offer a variety of food and drink items, including coffee, tea, sandwiches, and pastries.
They also have a wide selection of board games for purchase, so you can take your new favorite game home with you. Whether you're a seasoned gamer or just getting started, Gameistry Entertainment is the perfect place for you.
PLAYERZ GAMING
PLAYERZ is a very basic sort of gaming café located in Anna Nagar. The café is decent but has no special factor attached to it. It's not that this café is not good but it's very simple and offers nothing out of ordinary.
There are no frills or decorations, just a few tables, and chairs arranged in a not-so-big room. The ambiance is also very simple. This gaming café is all about being simple and providing a place for gamers to come and play without all the distractions of everyday life.
PLAYERZ GAMING is a place for gamers of all levels to come and play. The staff is very friendly and welcoming, so you can easily ask for help if you need it.
If you're looking for a simple, no-nonsense gaming café, then PLAYERZ GAMING is the place for you. You'll have your whole focus only on games here which can be helpful for many serious gamers and even for new gamers.
GAMEWEB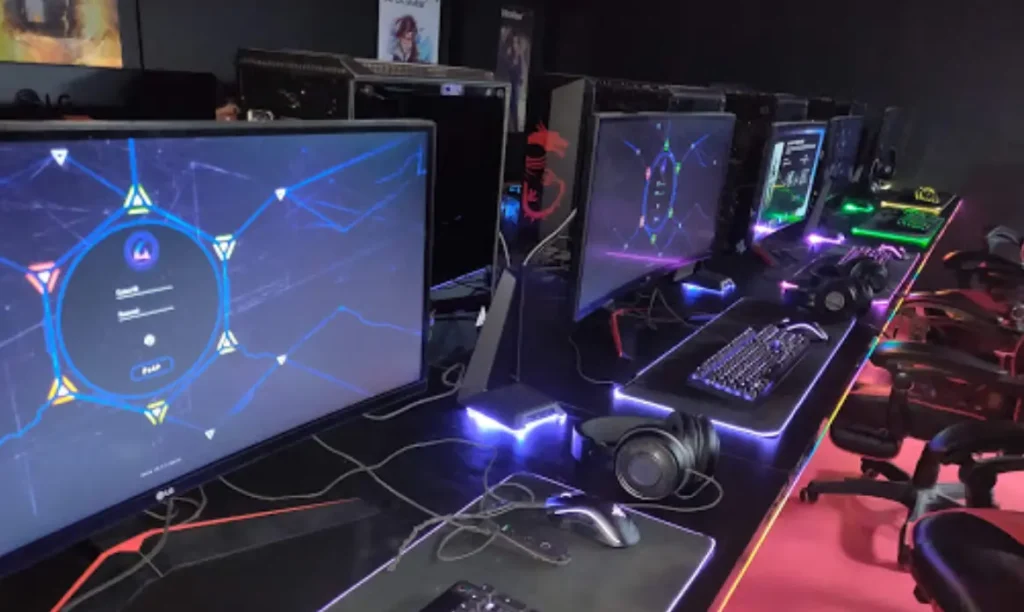 GAMEWEB is a café like most typical cafes. It is a small gaming center in Nungambakkambakkam. It's not boring and a simple yet elegant and good place to hang out and have a good time.
The ambiance is cool with lighting all over the place to give it a funky vibe. The café is not expensive but many have complained about the high prices of the snacks available here.
Overall the café is a good place with powerful rigs and good quality accessories. The seating is good with ample space to adjust to other gamers. You can also check other options available in the city if this café is too tame for your liking.
But if you can't find a good café nearby, you can other check options available in Chennai that offers far more superior experience at similar prices.
Klasse Entertainment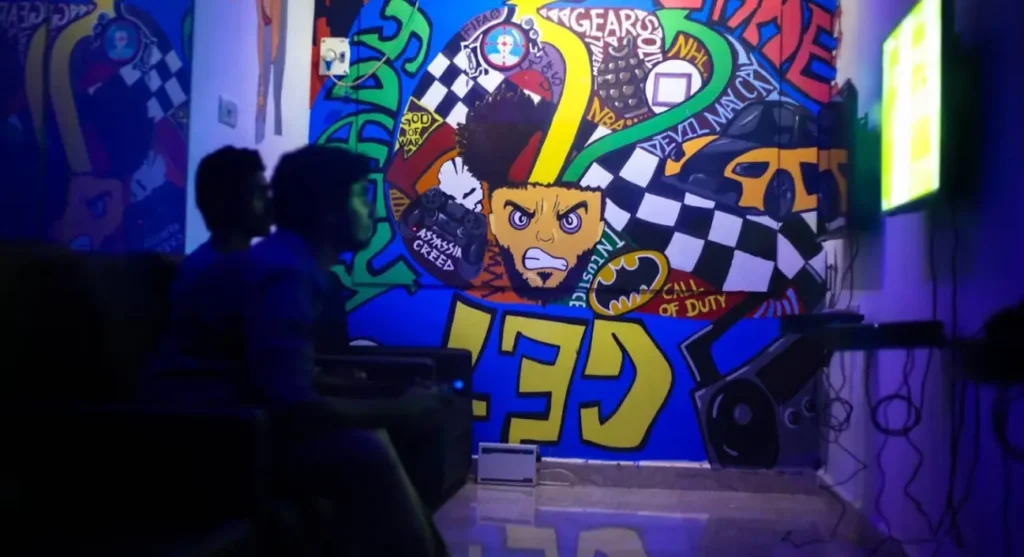 The last café on the list this café, this café is for ambiance and not just a normal ambiance but a high-end ambiance.
If you crave a gaming zone with a cool-looking setting that would be great for your Instagram, then Klasse is the place to go. From led strips on stairs to neon sticker-based walls, this café is an experience itself. You will surely enjoy this gaming café. And that is not all, the cost is just unbelievable.
For ₹50 an hour, you can play your favorite PC or even PlayStation games. And if you want to have a whole night of gaming, you can get a rig or a PlayStation for a whole night at just ₹250. The gaming cafe is quite large and the crowd is just amazing so you can have a good multiplayer gaming session.
The Klasse is a good place and for only ₹50, you can become a part of this amazing café.
---