Hyderabad is known as the IT hub of India so it's no big deal if the city has some of the most incredible gaming cafés you'll ever find. The city is home to many gaming cafes that vary from your standard gaming to places with board games and also, VR. Yes, the city also has a very good virtual reality-based gaming community.
With its excellent rigs, state-of-the-art gaming equipment, and comfortable setting, it is the perfect place for gamers to come together and enjoy their favorite pastime alone or if you want to experience multiplayer gaming, the gaming community is pretty strong here so you'll have a good time.
The city is a hub for gamers so whether you're a skilled Gamer or a newbie player, Hyderabad's gaming scene is just perfect.
Checkout the best gaming cafés in Hyderabad…
Xsha Elite Gaming Lounge XSE
The first café on your list, Xsha Elite Gaming Lounge has most of the things that people love about gaming cafes. Here you'll find a large number of different gaming setups across different platforms.
Here you get around 14 power-packed PCs with fabulous accessories, 3 PS4, and one Xbox One which might come across as a surprise for many as Xboxes are not very common for many gaming cafés. In the PC department, there are options of two gaming setups, so one with a standard refresh rate monitor which starts from ₹60 an hour, and if you want a higher refresh rate for a much smoother experience (144Hz) you'll have to pay ₹80 for an hour of gaming.
The ambiance is simple and comfortable with nothing too fancy and at the same time, not boring. The food is also available so you can have your gaming with some munching. The rigs are very good, you get GTX 1050 and good quality keyboard.
VR Gaming Café
One of the most unique gaming cafés you'll ever see in your life, this café is like nothing you'll find easily. Generally, what does a gaming café offer? Some PCs and consoles (mostly PlayStations) but what if you're bored with these typical platforms and want to try something new.
At VR Gaming Café, you'll find all sorts of VR Games which include games like archery, gaming, and boxing. If you are fed up with old-style games, you'll definitely like this place and will find it just amazing and beautiful. The ambiance is extremely cool you have different VR game sections with the themes of those cricket games, and you get a cool-looking grass pitch.
The food is also amazing with a cool-looking food station where you can order delicious beverages and fast foods. The staff is amazing and is always there to help you. Whenever you're in Hyderabad, you have to visit this café.
Board Game Cafe
Hands down to the best cafes in the country, yes in the whole country. Board Game Café is just a dream come true for gamers and even nongamers who just want to have a nice place to hang out.
Here you'll get one of the best experiences of your life. You get board games like Jenga, Uno, and Monopoly Chess. And your typical gaming rigs with good refresh rate monitors. And that's not all, you can even read some amazing books here. The food is just phenomenal with almost everything popular. You get lasagna, pizzas, burgers, Falafels, pasta, and even prawns.
For beverages, they got you covered with Mocktails and milkshakes. This is the café where the cool crowd of Hyderabad hangs out, so you have to check this out.
Yolo Esports
A typical gaming café compared to the previous one, Yolo Esports is still a very good place for gamers. You get PS4, and PCs with GTX 1060 setup which is capable of handling big heavy titles.
The ambiance is good with good staff and a good crowd. The downsides include no 240Hz monitors and average gaming chairs. The keyboard and mouse also need an upgrade. You can visit this café but honestly, there are far better options that you can check out.
You can visit this café you live nearby or just don't care much about the ambiance and is more of a focused Gamer. One thing is sure, with rigs available there, playing games won't be much of an issue here.
LEVEL UP (The Game Studio)
Another Café with great ambiance, the theme of the Café is wood-based like you have in hill stations. with cozy chairs and sofas. As you enter the café, you'll first see cozy seating with a food counter in the style of a bar. Move further and you'll see the gaming section. The theme of the gaming café is a bit different with a metallic touch compared with the whole of the café.
Still, it is highly photogenic and makes for a good gaming experience. The Gaming section is super spacious and you'll have a lot of fun playing there you can even play with your squad without any problem. You get good gaming rigs and monitors with 144Hz refresh rates so you'll have a good experience playing your favorite games.
The crowd is very good here so you'll have a good experience with multi-player gaming and can make some good gaming friends here. So if you want to visit a good and beautiful experience, find this café.
Playmax Interactive
Enter this café and you'll feel you have entered into a Nivida Headquarters or something. The theme of this café is very inspired by Nivida. The look is all green and sort of cyber punk-inspired.
This café is for hardcore gamers and you have to be a good player if you want to make your mark here as the community is very strong and professional here. The biggest plus point of this café is that it's open 24/7 so you pretty much have plenty of time here. Come at any time you want and leave anytime you feel like it without having to worry about anything else.
The setups are good with 144Hz monitors and good rigs with Core i7 and 6GB Ram for a smooth gaming experience. The place is well ventilated and accessories are of steel series which is known to be a very good brand.
1UP Gaming Café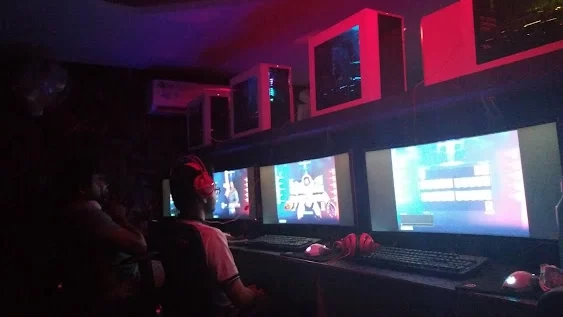 The café is divided into two floors. On the first floor, you get PC gaming setups and on the second floor, you'll get PS 5 setups with comfy bean bags. Here you can play PlayStation-based games if you are a fan of those.
In the PC gaming setup, you get 144 Hz monitors and Logitech-based keyboards and mice, and HyperX headsets. The café is open from early morning till night so that you can spend a good time without having to worry about it. The environment is neat and clean and the washrooms are also very good. You also get some drinks for you to enjoy. If you feel thirsty, they got you covered.
The only downside of this café could be it's not very huge and can get a bit suffocated for many so be sure to know about this before you enter here.
Headshot Café
A funky café with a funky name. Headshot Café is about gaming in trippy lighting. Situated in of the main areas in Hyderabad, Headshot Café is a nice place.
You get many good games here although the number is not very big when compared to other games Cafes. You also don't get food or anything here so be sure of that. But you can check this café if you want to as apart from lack of food or drinks, you won't feel missing out anything here apart from maybe a better ambiance if you are a fan of big and unique cafes.
ROX Gaming Lounge
In the last Gaming Café on this list, you can get some amazing experiences here. The ambiance is good but tables on both sides with Gamers playing their favorite games.
The rigs are good with 144Hz monitors and you get Redgear Cosmic 7.1 for an immersive experience. This is truly a gamers hub with options to play on either PC or PlayStation so whichever you like, ROX Gaming Lounge got you covered.
The AC is also very powerful so you don't get suffocated while having a good DOTA match. But know one thing, food or drink is not available here you must know this before arriving here. But the café is still very good despite these shortcomings and attracts many Professional gaming crowds so you can also make some good friends here.