Gamer and looking for best gaming cafe in Ahmedabad? We bring you the complete list…
One of the most beautiful cities in India, Ahmedabad is located on the banks of the River Sabarmati and is home to some of the most stunning architecture in the country. The city is also known for its vibrant culture and friendly people.
So if you are a gamer, then it's a matter of joy for you to know that Ahmedabad has plenty of awesome gaming cafes. Here are the top seven gaming cafes in the city, so if you are in the city, be sure that you check these cafes. All of these cafes are unique in themselves as they all have something different to offer.
Top 7 Best Gaming Cafe In Ahmedabad
Gamer's War
Energy drinks, music, and high-octane gaming, all these things define Gamer's War gaming cafe. This cafe has all these things reserved for you.
With a beautiful and eye-catching ambiance, a huge selection of energy drinks, and extremely powerful rigs (RTX 2060) Gamer's War is a gamer's paradise. Once you enter through the door here, you won't be able to get home early and why would you? The cafe is open till 10 pm so the chance of you making home early is extremely low. Here you not only play games but have an experience of what it's like to be in a high-end gaming cafe at fraction of the price.
You'll find a professional gaming crowd here to test your skills in a highly competitive multiplayer session. For only ₹50 per hour, you can have a blast playing with a huge collection of games available.
And that's not all, here you can also purchase your favorite game (both PC and PlayStation) and can also buy a custom gaming PC for yourself. So if you're in Ahmedabad and passionate about gaming, you have to check this place out.
QnW Gaming
The second gaming cafe on our list, QnW gaming is about giving an experience on a budget. In this cafe, you'll find gaming rigs of the Aorus brand which is very unique and is one of the most affordable Gaming Cafes in the whole country. Yes, you read it right, with just ₹30 per hour, you'll get to enjoy your favorite games with super comfortable gaming chairs.
The systems have the classic and most powerful GTX 1060 and the best thing about this cafe is it's open even on Sundays. They also provide memberships of prime and nonprime which comes with added benefits. Regarding the games, the AAA titles like DOTA 2 or CS: GO are free but for other games, you'll need to lose your pocket a bit.
The internet is blazing fast and, the cafe is safe for all age groups. The ambiance is though, strictly moderate so if you looking for a gaming cafe with cool insides, you'll have to look somewhere else.
In other words, here it's all about gaming, and nothing else is top of the list priority. Also, food is not available so be sure of that before coming here.
Respawn to The Gaming Club
So if you care for the ambiance, and the feel of a gaming cafe, this one is for you. Enter the cafe and you'll be transported inside a futuristic cafe.
This can be rightfully the sole reason why this cafe should be visited, as its approach is unique. From amazing RGB lighting running around the whole cafe to blazing fast internet, you'll find it all here. Another good thing about Respawn that the gamers can't seem to stop talking about, is the huge number of games available here. You will find some newly released games across different genres here.
The staff is very professional and friendly and always there to help you. Here you have the freedom which many gaming cafes lack today. Another unique thing here is the tournaments are available here.
If you're good at Valorant, you can not only show this to the world but can earn some cash as well. The cafe has more than just the ambiance and it's one of the biggest reason why gamers of Ahmedabad loves this place and continues to visit here.
Zorba Game Zone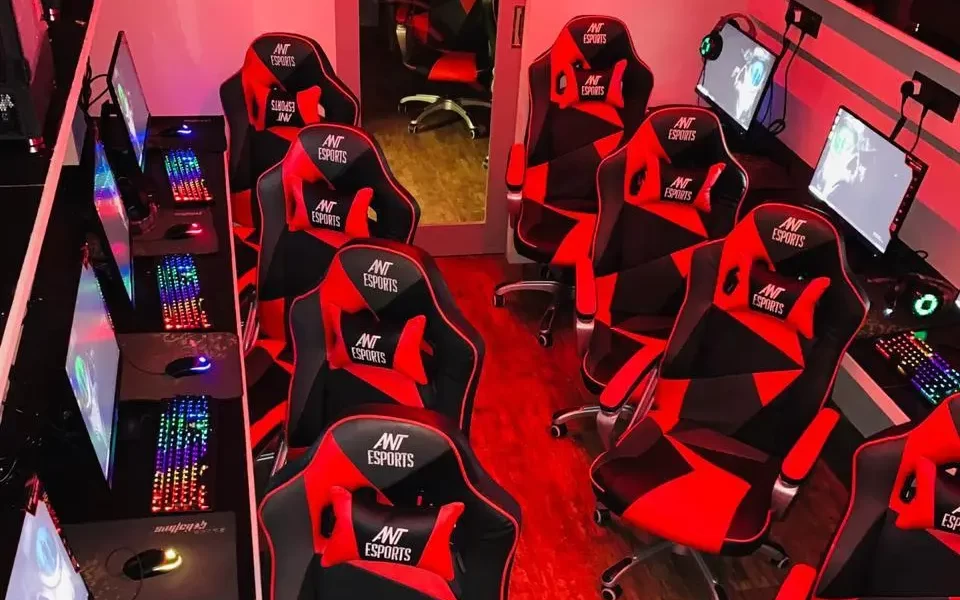 Zorba Game Zone is one of those cafes that are more about substance and less about style. The cafes like these offer good gaming at extremely competitive pricing which is very difficult for a high-end cafe to offer.
Here you have two options for gaming. You get a 75Hz display gaming setup starting at ₹40 and if you are interested in going up on the refresh rate, you get a 144Hz setup for ₹50 an hour. The setup has your typical but powerful card for gamers, the GTX 1080 which can handle the popular titles available, fairly easily.
Another good point is they provide an air conditioner despite being a budget-oriented gaming cafe so that's another plus point. One downside if you consider it as such, the place is a bit congested- resulting in less space between systems. If you can get used to that, Zorba is an excellent place to have some fun without having to worry about your wallet.
Game zone
Although, this is technically a gaming cafe. The main focus of this cafe is the pool tables. There are around 5-6 pool tables of different sizes available here. This is a cool thing as sometimes you want to take a break from gaming and want to try out something different.
For Gamers, they got you covered with their huge collection of over 20 Gaming PCs. For gaming, you get an hour for just ₹30 and if you want to try your hand at the pool, you get a frame for ₹100. The systems are good but strictly average, you get a 60Hz display which can be a downside for gamers as 60Hz is a thing of the past.
Regarding the ambiance, it's just normal but the presence of a pool table is something new. This cafe is only worthy if you happen to live near it or want to try a pool otherwise, there are far better options available in the city than this cafe which you can check out. The cafe opens till midnight so that's a good thing if you want to stay here for long hours.
D-Generation X Gamer Spot
A gaming cafe with a long name, D-Generation X Gamer Spot is one of the smallest cafes you'll find in Ahmedabad. The basic amenities are there such as an air conditioner, and good gaming gear.
The place offers a standard gaming setup with a 144Hz display and a good collection of games. The cafe opens in the early morning at 8 am and closes at 8 pm, which is seriously a big downside of this gaming cafe.
Here you get to play lots of games as their collection is huge just for a price tag of ₹60 per hour. The gaming headphones available are of very good quality which can be good for your gaming experience. If you don't care much about food or the size of the cafe and you play alone without a squad then you can check this gaming cafe out.
Cell4Ever Cyber Cafe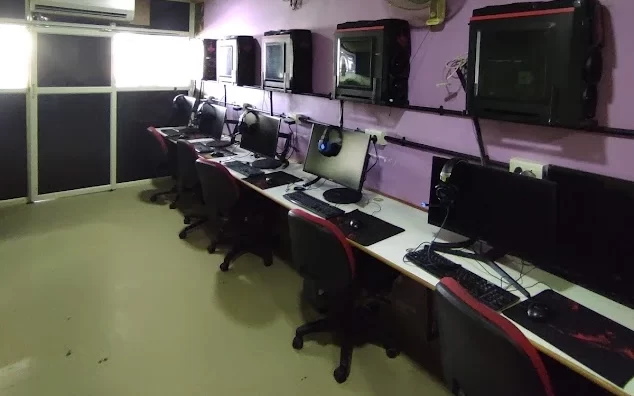 The last café on our list, this one is technically a cyber cafe with some basic gaming setup. As it is a cyber café first, don't expect any high-class ambiance here. The ambiance is effortless and there's no food available here.
The rigs are good and offer a decent gaming experience but don't expect to interact with fellow gamers as it's first a cyber café and you'll have a hard time finding gamers here.
The café is good but if you want to have the experience of being in an adrenaline-rushing neon-shining gaming cafe, this place is probably not for you and can honestly get a bit boring.
For a gaming café to feel like one, you need to have something different especially from a cyber cafe. So in the end, you should skip this cafe and look for other options available on this as those are much better than Cell4Ever Cyber Cafe.