India has been a powerhouse in eSports since the advent of 4G. With a massive population of young people and a rapidly growing gaming culture, it's no surprise that India has some of the top-notch gaming cafés today.
These cafés are not only places where people can come to play games but also to meet other gamers and socialize.
Gaming cafés are becoming increasingly popular in India, and it's easy to see why. They provide an excellent place for gamers to congregate and enjoy the company of others who share their passion for gaming.
With the uprise of mobile gaming, gaming cafés will likely continue to grow in popularity. So if you're looking for a terrific place to game, check out these top 10 best gaming cafés in India.
Let's begin the list of ultimate gaming cafés in the metro cities of India.
List Of Top 10 Best Gaming Café In India
VR Gaming Café (Hyderabad)
Experience a new way of gaming at VR Gaming Café – a virtual reality gaming café in Hyderabad. At this café, you can enjoy an immersive gaming experience unlike any other.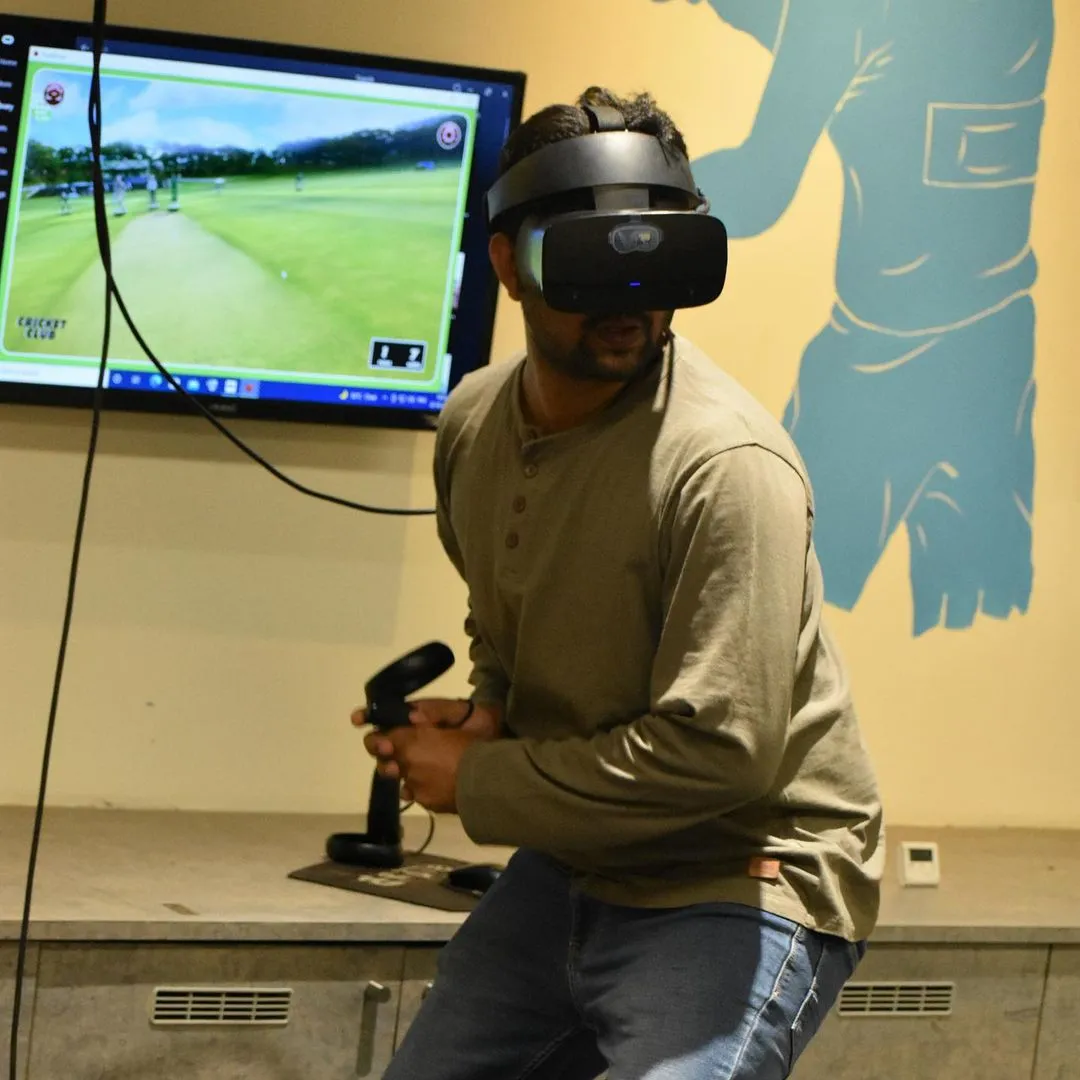 They have a wide range of VR games to suit all tastes, so there's something for everyone to enjoy. And with their stunning ambience, you'll be taken into a world of fun and excitement. So come and visit this place if you are in Hyderabad to experience VR gaming like never before.
The big downside of this gaming café is that it's a bit expensive – with ₹600/hour, it's costly for many, but if you want to try something new and different.
League of Extraordinary Gamers (Bangalore)
A gaming café that offers both quality and affordability, LXG is located inside a large building.
Here you can find amazing powerful gaming rigs with RTX 2060, 240Hz monitors, gaming mice, and mechanical keyboards for just ₹100 an hour! For those who are on a tighter budget, you can get your gaming on a GTX 960 for as little as ₹80.
The ambiance is straight out of an NVIDIA headquarters, since the place is certified by NVIDIA. Professionalism oozes from the café!
Do not miss this gaming paradise if you are in Bengaluru! There's no way you can leave here without spending a few hours playing games!
Gamers Garage (Mumbai)
Gamers Garage is an excellent gaming café with a laser-themed ambience. They have all the latest and greatest video games, consoles, and accessories to enjoy.
And this Café is the perfect place to relax and have fun with friends. Its mission is to provide a fun and welcoming environment for gamers of all levels and ages. The café wants you to feel at home at Gamers Garage. So come on down and check them out.
It is right to think that you'll be pleasantly surprised at what we have to offer. This cafe also provides an hour of gaming for just ₹150, which is justified for what they provide. A must-visit for sure!
Lan Shack Gaming Café (New Delhi)
Starting our list with the capital, Delhi has been the country's centre, and in the gaming cafes, it's no less.
Lan Shack Gaming Café is one of the best offerings you'll get in the country. Great ambience, extremely powerful rigs (RTX 2060 and 3060), and even a vast menu for munching during the long gaming hours. Lan Shack is where the capital city has fun.
They have some special packs for more extended gaming like you can game for ten hours straight at just ₹350, which makes it around ₹35 per hour.
The café has all other facilities like good chairs, an air conditioner, and easy access from the road so try this if you are looking for a good gaming place in Delhi.
Cold Fusion eSports (Bangalore)
The next gaming café on our list is the Cod Fusion. The ambience in this café is top-notch, with a perfect blend of light and sound that manage to keep you feeling relaxed yet excited simultaneously.
The favourable lighting also means you won't get those pesky migraines after long hours of playing. As for the equipment, you can rest assured that you're getting only the best.
From PCs with the latest parts from AMD Ryzen to top-of-the-line gaming monitors, this café has it all. It is also among the cheapest Gaming Café in Bangalore and famous among gamers.
You'll indeed find this place filled with passionate gamers.
Domin8 eSports Café (Indore)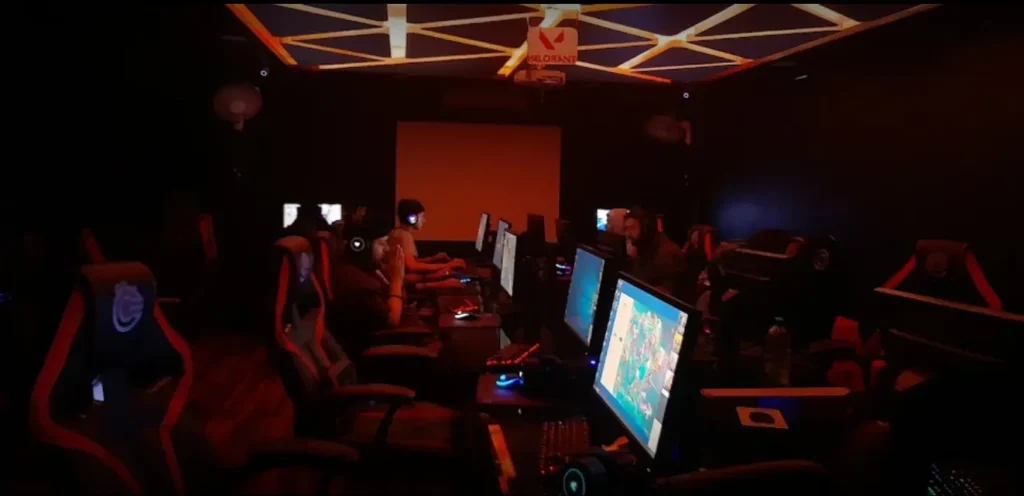 Domin8 eSports Café is a gaming café in Indore. It has a very psychedelic theme, with unique and funky art on the wall and a beautiful ceiling.
The café has a wide range of gaming consoles that cater to all kinds of gamers. The staff is amiable and welcoming, ensuring that all their customers have a great time. Domin8 eSports Café is the perfect place for you to unwind and have some fun.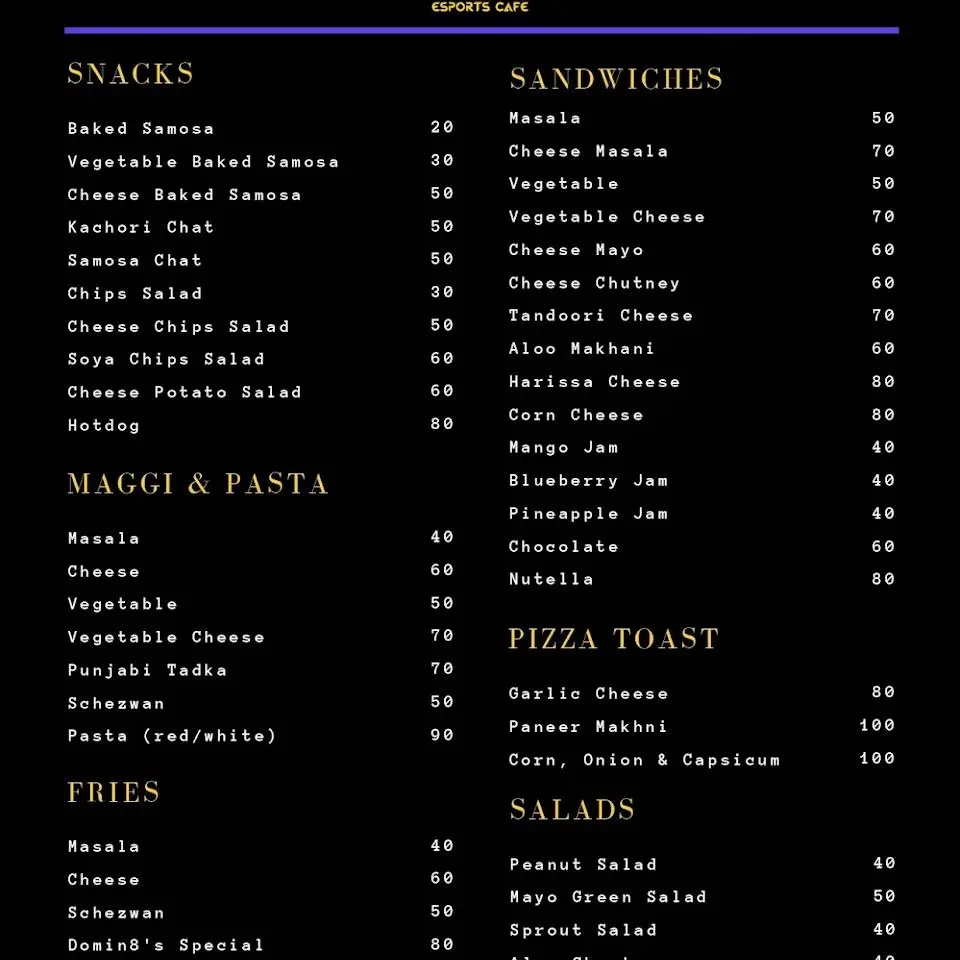 You also have a snack bar here, and the prices are very much balanced. So come on down and check it out.
Respawn Gaming Zone (Ahmedabad)
Another gaming café that gives the best of gaming and ambience, here you can get the what of both things. Welcome to Respawn, the gaming café with a difference.
This café is designed to transport you into a gaming world, with a spaceship-themed interior and various gaming consoles. Their friendly staff is on hand to help you select the suitable games for you, and they have a range of snacks and drinks to keep you going as you game.
Respawn is the perfect place to relax and have fun, whether you're a seasoned gamer or a complete novice. So come on in and enjoy the ultimate gaming experience.
Tagbot Gaming (Chennai)
Tagbot Gaming is a fantastic gaming café located in Chennai, India. It has a unique ambience, state-of-the-art gaming equipment and a team of passionate and friendly staff.
The café also has a great food and drinks menu so that you can refuel after a long gaming session. Whether you are a Sucker for ambience or want to game hard, Tagbot Gaming is the perfect place to enjoy your favourite games.
They have high-end accessories from Razor, Kingston Technology (HyperXcloud), MSC, and many others. So if you're ever in Chennai, check out Tagbot Gaming.
Level Up Gaming Café (Kolkata)
Probably the cheapest Gaming café in all of India, here you get everything more than expected. An easy-to-reach place, Level Up has monster rigs (1050Ti) coupled with 8 GB of RAM and an i5 8th gen beast for extreme gaming.
Heaven for gamers in Kolkata; you'll find all sorts of the crowd, professional gamers or just some random kids. The owner is an ardent gamer who knows how to manage diverse situations and problems.
If you are from Kolkata, you must visit the cheapest high-quality gaming café, Level Up Gaming Café.
Intencity (Pune)
Welcome to intencity! Their name suggests that they're all about giving our guests a relaxing and enjoyable gaming experience. And what better way to do that than with bean bags in one of the best gaming cafes in Pune?
They know that not everyone is a fan of traditional gaming chairs. In contrast, gaming on consoles has decided to switch things up and offer something different. Their bean bags are designed to give you the ultimate comfort while you game, and it's good to think you'll love them.
You'll find all the powerful rigs with different tiers(low, medium, high, and ultra). The Gaming Café is enormous, with ample space to move around quickly. So come on in, make yourself comfortable, and enjoy your stay at intencity.
Action Mania (Lucknow)
The unique thing about this gaming cafe is that it is located inside a big mall. Plus, it's very different from other gaming zones.
Action Mania is the perfect place to get your gaming fix. From pc games to air hockey and other ball-based gaming, they have all the games you love. And they're constantly adding new games to keep things fresh.
So come down to Action Mania and see what all the fun is. They guarantee you won't be disappointed.
Conclusion
We hope you like our list of best gaming cafés in India. We've tried to include something for everyone, from the casual player to the serious gamer.
Finding the perfect gaming café can be tricky, so we've included various options from different cities across India.
Whether you're looking for a place to relax and play some games with friends or you're looking for a competitive environment to test your skill – it is sure you'll find the perfect gaming café on our list.
So what are you waiting for? Get out there and explore the best gaming cafés India has to offer!