Are you looking for the best gaming keyboard under 10000?
This list of the best mechanical gaming keyboard under 10,000 Rs will showcase some of the best-selling gaming keyboards in the market today. With RGB lighting, solid build quality, an armrest for you to keep gaming for long hours, and decent tactile feedback while typing – these gaming keyboards won't disappoint you on any front.
Also check:
In a hurry?
Top 3 Best Gaming Keyboard Under 10000
Razer Huntsman Mini: Best Gaming Keyboard Under 10000 (Overall)
GameSir GK300: Best Wireless Gaming Keyboard Under 10000
Logitech G Pro: Best Mechanical Gaming Keyboard Under 10000
More Gaming Keyboards…
We have researched for hours to bring you the best selling gaming keyboard under 10k in India and all these keyboards come from the best brands in the gaming industry plus have a warranty included.
10 Best Gaming Keyboard Under 10000 Rs in India 2022
Razer Huntsman Mini
The Razor Huntsman mini is the best mechanical keyboard under 10000 in India in 2022. Its 60 percent form factor build is a new favorite among pro gamers, providing ample arm space, and smooth responsive key switches.
The Huntsman Mini's 61-key minimal size synergizes with the responsive new 'optomechanical' switches, to create a premium experience. With a strong aesthetics quotient, the keyboard has mercury and black chassis options, along with purchasable keycaps for more customization.
Improving on the clicky sounds in the Huntsman TE, the Huntsman Mini is very silent because of silicone pads. And come in two options: Purple Clicky switches with an Actuation distance of 1.5 mm and Red Linear Switches with an Actuation distance of 1.0 mm
The Huntsman mini has 7 pre-set light modes with 5 customizable lighting profiles storable in the onboard memory. Synapse 3 provides software support, macro key binding and lighting customization options are available for each key.
Positive
Best mid-range gaming monitor
Colors look Gorgeous
Bezel-less display
Supports HDR
Height Adjustable
Negatives
Not a Gsync ultimate Monitor (it's like a FreeSync)
Mediocre Reviews on Screen Bleeding
Logitech G512
For gamers who prefer robust full-sized keyboards, The best option under 10,000 is Logitech's G512 with a premium aluminum matte finish, a dedicated game mode, and RGB lights with game-driven lighting effects.
The Logitech G512 Mechanical Gaming Keyboard has an eye-pleasing design with a premium 5052 aluminum matte finish, and a nice, heavy 1250 grams body with 6 solid rubber pads for a sturdy grip while gaming.
Logitech has catered to most needs of the gaming community with features such as a USB 2.0 port for additional charging and a gaming mode To turn off redundant keys. This particular product comes with the GX Brown Tactile switches, which produce a good bump while using and a moderate amount of noise.
Like the Huntsman Mini, the G512 comes with 7 pre-set color modes and custom bindings for every key with 16.8 million possible RGB colors, with LIGHTSYNC, the lighting effects change with the game music and sounds.
Reasons to Buy
GX Blue Switches
Great Value for money
Endless Customizations
Rock solid build quality
Reasons to Avoid
Manufacturing defects found in some keyboards
Are you enjoying our list of best gaming keyboard under 10000 in India?
XPG Summoner
If you're looking for a variation from the Logitech 512G Mechanical Gaming Keyboard in the 10,000 range, and love the trusty Cherry MX Red switches, which are best for beginners to mechanical keyboards, this is the keyboard for you with solid specs and a comfy arm-rest 😉.
The keyboard feels premium with sandblasted aluminum metal plate adorning a metallic XPG logo and a dedicated volume wheel and media button(but, but no other primary media buttons) with a detachable magnetic plush leather wrist rest makes it very user-friendly.
Like the Logitech's G512, it has USB passthrough for connection and anti-ghosting tech. The box-set also has 9 red key-caps.
A standard 7 light modes with brightness level and individual key lighting customization, macro-programmable keys now with a dedicated XBG Prime software the XPG Summoner is not far behind its competition.
Reasons to Buy
100% Anti Ghosting Keys
Best Mechanical Keyboard Under 10000 with Wrist Rest
Excellent Build Quality
Media Controls
Reasons to Avoid
No software to control the brightness of the RGB light
Limited RGB effects
---
Did you find your best pick from this list?
You've already checked our Top 3 Picks for Best Gaming Keyboard Under 10000, want to know more?
---
Razer Ornata V2
If you love the clicky and tactile feedback of a mechanical keyboard but hate the noisy sounds, this is the keyboard for you, the unique hybrid mecha-membrane switches provide a soft cushiony feel and are not loud at all.
The plastic body and frame are a bit of a bummer at this price. The font of the letters gives a nice feel but is quite thin and the keys feel wobbly. The small volume wheel with media keys is the best part of the keyboard's design.
The mecha-membrane switches retain their touch and feel as their USP. It also has a detachable leather arm rest though the heating is an issue. The cable-routing channels below are a nice touch.
The Ornata V2 is supported by Synapse 3 and has programmable keys with a variety of customization options and reactive audio visualization, but it does not have any onboard memory.
Reasons to Buy
Hybrid Mechanical Key Switches
Customizable Chroma RGB Lighting
Detachable Plush Wrist Rest
Programmable Macros
Tactile Click is Awesome
Reasons to Avoid
Key wobbles in some keyboards
A bit overpriced
Razer BlackWidow Chroma V2
The Razer BlackWidow Tournament Edition Chroma V2 is the best TKL keyboard under 10,000 in India. It provides an option between the Huntsman Mini and full-sized keyboards along with the RGB effects and customization option of Razer Chroma RGB.
About 75% the size of a normal keyboard, the Blackwidow TE combines compactness with premium aesthetics to create a great look and design, it has a metallic base with a plastic body. Its 1.25 kg bulk and rubber pads provide great stability while gaming.
The box-set comprises a quality plush leather wrist rest and a detachable braided cable. Rest assured about the generic features, with anti-ghosting and a lifetime of 80 million keystrokes.
It is supported by Synapse 3 and Razer Chroma RGB both and comes with 16.7 million color options with individual key customization and audio visualizer. It also does not have onboard memory.
Reasons to Buy
Amazing response time
Best TKL Keyboard Under 10000
Comes with wrist rest
Reasons to Avoid
Not great for typing
Yellow switches
Logitech G Pro
If you prefer TKL keyboards, and are looking for a trusty brand such as Logitech, the Logitech G Pro Mechanical Wired Gaming keyboard is a very valid option.
Available only with the GX blue clicky switches, the keyboard offers all the features of a high end keyboard, with onboard memory, macro programmable keys and G Hub software support. This Tenkeyless (no numpad keys) feels stylish. The frame is mostly plastic and feels light. At the bottom are adjustable keyboard feet with rubberized pads to prevent slipping.
The GX blue clicky switches have a nice classic type-writer like sound to them, with an actuation distance of 1.5 mm. The keyboard also comes with a USB pass through and channel switches at the bottom.
Macro programmable keys and LIGHTSYNC with G-Hub software support along with an onboard memory to save keyboard profiles keep the keyboard on par with other TKL options.
Reasons to Buy
Ultra Portable Tenkeyless Design
Detachable Micro USB Cable
LIGHTSYNC for RGB customizations
GX Blue Clicky Switches
Perfect palm and wrist position
Reasons to Avoid
Not great for typing
Yellow switches
GameSir GK300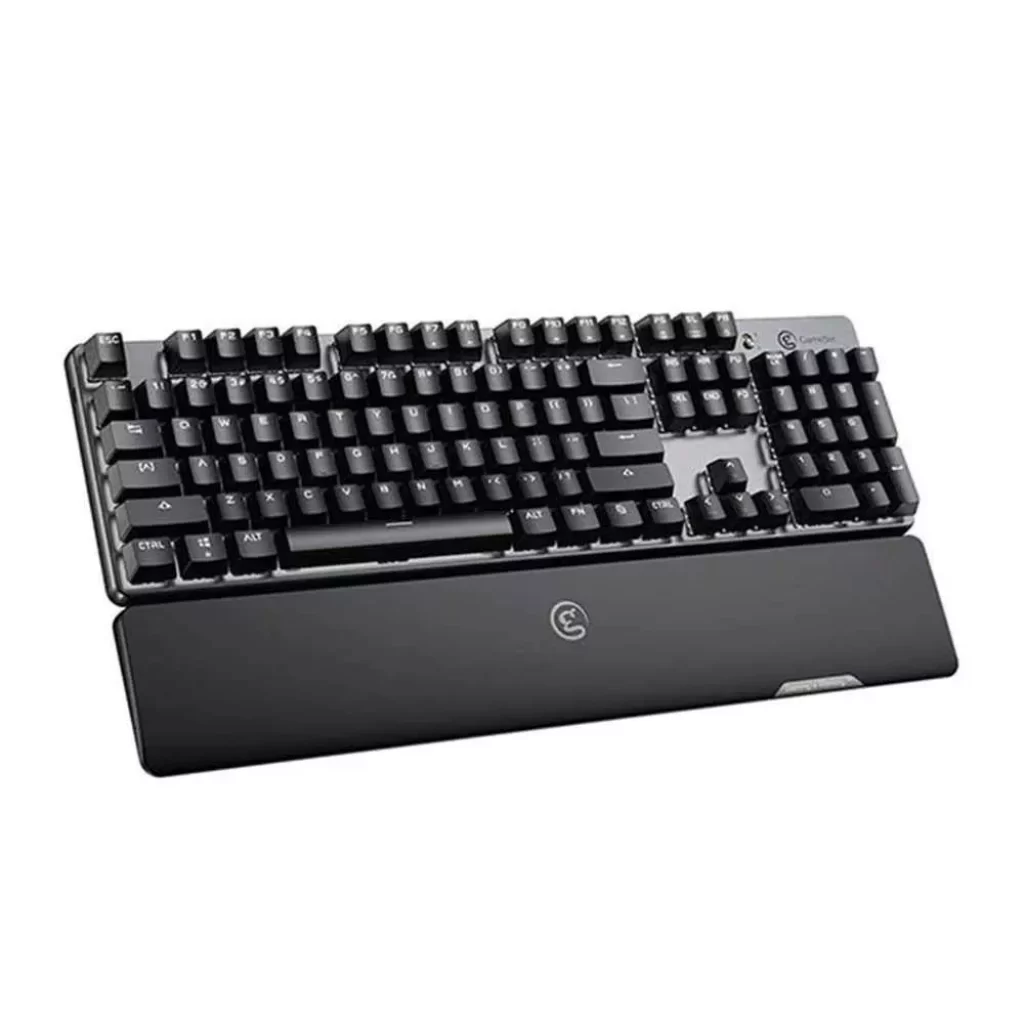 The GameSir GK300 Wireless Mechanical Gaming keyboard, is a wireless, simplistic keyboard, with no RGB lights or macro programming it relies on solid performance and battery life to compete. The keyboard looks simple and classy with its Aluminium alloy cover and minimalistic plastic wrist rest.
With 2.4GHz WIFI connectivity and Bluetooth enabled along with A 3600mAH battery which in normal usage lasts over a week, is excellent for a charging time of 2.5-3 hours. The blue and red mechanical switches feel tactile and clicky.
The GK300 makes use of monochromatic white LEDs instead of RGB lights and does not support Macro programming and has no software support.
Reasons to Buy
Best Wireless Mechanical Keyboard
LED Backlight
1 ms report rate
TTC Mechanical Blue Switches
Dual Mode Connection
Reasons to Avoid
Only 10 Anti Ghosting Keys
Make a lot of noise while typing
CORSAIR K70 MK.2
The Corsair K70 Mk.2 is truly premium with all the features to boot for it, with an 8 MB onboard memory, software support, aircraft-grade aluminum finish and state-of-the-art Cherry MX Red switches. Premium and Matte, are the words you first say after a look at the metallic aircraft grade anodized aluminum keyboard.
The Corsair logo lights up in RGB over the grainy textured keys of the K70 Mk.2, creating an aesthetic experience. The Cherry MX blue switches lie below a keyboard that covers all bases.
Stylishly designed volume and multimedia controls, USB pass-throughs, and n-key rollover with anti-ghosting make the Mk.2 a true high-end keyboard. The only blemish might be the plastic wrist rest.
The RGB lighting effects are easily visible through the vivid font of the keys and can be customized minutely with Corsair's iCue software. The 8MB onboard memory is handy, with the 16.7 million possible RGB colors to choose from. An audio visualizer is also present.
Reasons to Buy
Anti Ghosting Keys
Multimedia controls
On Board Memory
Lot of options to customize
Top notch quality
Reasons to Avoid
iCue software needs improvement
Plastic wrist rest
Are you enjoying our list of best gaming keyboard under 10000 Rs?
Let us know in the comments down below.
ASUS ROG Strix Scope RX
The Asus ROG Strix Scope RX promises a lot. With a lifespan of 100 million keystrokes & water and dust resistance. Covering the most required features, plays games with this exciting product.
With an aluminum alloy plate, the Asus ROG looks terrific and has the weight to back it up with. The wider control key for FPS games is unique to the keyboard.
The ROG RX Red optical-mechanical switches are linear and silent. IP56 water and dust resistance rating makes it safe from spills, and the 100 million keystroke lifetime claim, and 16.8 million colors, is durable. It also has a USB pass-through.
The lighting effects offer customizable and interactive RGB colors for every key with the Aura software and Aura Sync. The onboard memory can save up to 5 profiles.
Reasons to Buy
Best Gaming Keyboard Under 10000 (with RGB)
IP56 water and dust resistance
Customizable RGB colors
Amazing Build Quality
Reasons to Avoid
Absence of physical macros keys
No wrist rest
Sensitive keys
Razer Huntsman Tournament Edition
The Razor Huntsman TE is a TKL keyboard, and the first to feature Razor's red linear switches. For gamers, by gamers is the motto of this all-around product. This one by far has the best build quality that we have in this list of gaming keyboard under 10000 Rs.
The Huntsman TE has a simplistic look and has a lightweight plastic frame. The 4 rubberized pads do provide some grip, while the keyboard feet offer two adjustable angles.
The red linear switches are louder than usual, a problem fixed in the Huntsman Mini using silicone pads. A detachable USB C type cable and a standard bottom row in the keyboard are a result of community demand
The keyboard offers near-unlimited customization options and interactive lighting, with the Synapse 3 Software. The onboard memory also can save 5 profiles.
Reasons to Buy
Quick response time
Low travel distance
Super smooth keys
Amazing LED effects
Less noisy
Reasons to Avoid
Not great for typing
Mediocre reviews
Conclusion
You must have checked our list of best gaming keyboard under 10000 Rs in India 2022. These keyboards are top-of-the-line gaming keyboard that you can buy in the market today – no regrets guaranteed!
These keyboards are carefully picked based on the reviews and best of the line specification for the price you're paying for. If you want to pick yourself the best gaming keyboard under 10k Rs, then you must be looking for these five important things in the keyboard;
Is it water and dust-resistant?
Do it comes with RGB or are they any customization options?
Is the keyboard well built? Metal or Plastic?
What about the after-sales services in India?
Is the keyboard Gaming Nation recommended?
If you're able to find the right answers to the following questions, we are pretty sure you can get the best deal in the market today.
If you found this list of best gaming keyboards under 10,000 Rs helpful, do let us in the comments down below.