Earning monthly in crores through video games, that's what gamers are doing right now in India. Are you one of those looking to make money by playing video games? Then today, We will tell you all how you can earn crores of rupees in this industry.
The Indian Gaming Industry is a boom waiting to happen

DataQuest
And it's true!
India has the world's largest youth population and second-largest internet population, which makes our country one of the world's leading markets in the gaming sector.
Everyone is betting on this industry, Gaming is the fastest growing industry in India, and many people will go out of this industry tomorrow and become the next billionaire. 
And, if you want to create your empire in the gaming industry but you don't know how to build it yourself? Keep reading this article until the very end, because this article will change your life!
I will talk about different career options in the Indian Gaming Industry.
And, I'll also tell you how you can nurture these careers today itself.
The First option on our list is;
Competitive Gaming: Aka Becoming A Professional Gamer
There used to be a time when outdoor sports were mentioned in the Hall Of Fame. But nowadays, professional gamers compete with each other in competitive games like PubG, Dota, Call of Duty, CS: GO, and many more and earn much money and fame by winning the competition. 
The most fruitful part of this job is that, unlike ground players getting huge sponsorships through brands and companies, gamers are getting it more often.
Brands are realizing the importance of the Gaming Industry in every part of the globe.
Some Indian Professional Gamers: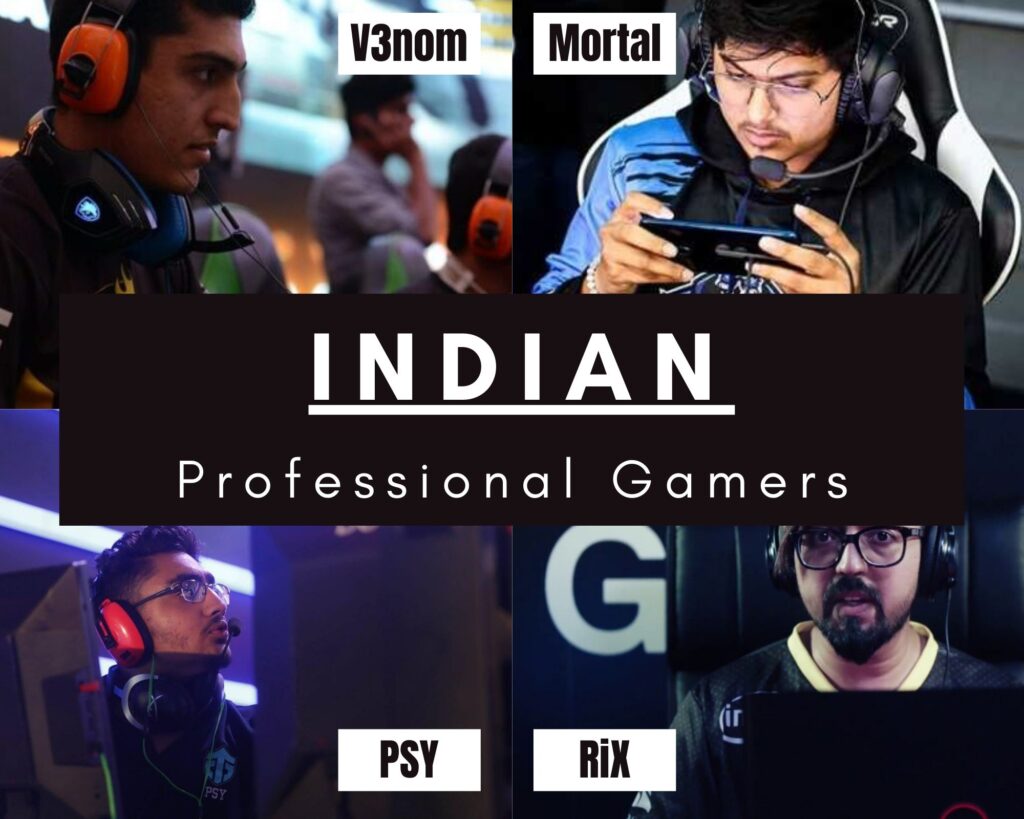 Since computer gaming is in the initial stage in India, you can now improve your game skills through hard work. Practice will make you good with crafts, ultimately making you Richie Rich!
Suppose you are going to play cricket, then your cricket bat should have a good grip.
If going to war, then your weapons should be strong.
And, If you want to become a good computer gamer, your PC should be robust, solid, and have a grip to handle the demanding hardware.
PCs are expensive to build. So I've mentioned some budget PCs that could help you in your initial stage of career.
You can become a full-time Indian Professional Gamer and earn through ad revenue, gift cards from brands, and also participate in video game tournaments to win cash prizes.
Second, on the list is:
Gaming Content Creator
Aadii Sawant from Dynamo Gaming and Ajey Nagar from Carry Minati is one of the top 5 gaming content creators here in India. They have their unique ways of creating content by playing games on Youtube. 
From starting a YouTube channel to building an entire empire of gaming in India, they've done it all.
Creating Gaming Content Online:
Informative Channel: Sharing informational stuff on games, and the gaming industry.
Streaming: You can stream yourself on Youtube, Twitch, or another platform to showcase your skills.
Funny Gaming Videos: You can create/edit gameplays from gaming tournaments or gameplays.
Writing Article/Blogs: Like I am doing, You can create articles based on your niche-specific topics on gaming and produce quality content.
And these are just some aspects of creating content online, in existence, you can get infinite ways.
But also remember that if you want to become a content creator, then you should know a lot about YouTube, Instagram, Twitch, and other social media platforms.
You will have to spend much time on the Internet by combining social media skills with your gaming skills. You will have to spend more time on editing platforms.
But, are you ready for all this without a good computer?
Maybe Not, editing is hardware demanding; gaming is hardware demanding too.
You can get yourself a Gaming PC at 50,000 Rs in India by clicking on the link provided. 
Once you begin creating gaming content online, You should pat yourself since the beginning is half work is done.
After you start posting your content, you will come to know what is good and what you deficient in. Because of this trial and error, your channel will grow, put hard work into it and learn from the trial and error method, and take the audience feedback.
Make Money as a Gaming Content Creator in India:
You can earn money from playing video games in multiple ways by becoming a Content Creator in India; this includes brand deals, Google Adsense, Sponsorships, Super Chats, and more.
The euphoria of making money by playing video games is something no one can ever forget.
Have you ever seen those Redbull fridges near gamers? These brand sponsorships make massive money for gamers all over the world.
Neither do you have a small cold drink, nor do cold drinks have money in the gaming industry because they too market such games, so don't focus on creating a community, create a community of your surround by gamers like you to keep moving forward in your life?
Next option is for those who want to play safe, a job option,
Becoming A Game Designer or Game Developer
Games come from gaming corporations.
Gaming Corporations require someone to build games for them.
A game designer is a person who designs game levels. Job roles include what to make in the game, how would the game look and graphics, what would be the story be, and what would be the concept of the game.
Game Designer is the soul of game.
Whereas a game developer is a person who does the coding related work, he is the technical guy, the heart of the game!
Being a game developer or a game designer, you still have options to choose;
You can work for gaming companies in India and be part of Next GTA or Fifa.
Or, You can start your own Gaming Company in India.
But you will gain a lot in both tasks if you learn.
If you work hard with your heart and soul, then you be the champion in the gaming industry.
You can also work in the backend as a game tester or customer support for games and much more.
The next ultimate option, for all the risk-takers,
Become A Gaming Entrepreneur
Gaming Entrepreneur is not someone who will develop the game. An entrepreneur doesn't work 24/7, they make a team of 6-7 gamers, provide them funding so they can compete on the global stage. When they win, money comes from brand deals, sponsorships, advertisements, and more.
Risk is endless, Challenges are limitless, but growth and money are exponential.
Some of the gaming startups in India are :
Remember that the gaming industry can earn a lot of money in-coming generation.
However, you all should know if you must want success, you will get it only because of sheer hard work.
First, work hard, and then money will run after you.
To wrap things off, do let me know if you liked this article, and you can always check more.