Are you looking for the 10 best gaming CPU in India to meet your gaming needs? With the increasing number of PC gamers in India, you must know what's the best gaming CPUs in the market.
The gaming CPU helps you meet the potential of your graphic card so that you don't experience low frame rates while playing games. You must invest in a good CPU to help you improve your gaming experience but also for streaming and editing.
Nowadays, with processors coming with more cores and threads, you don't have to worry about multitasking to push your computer to limits.
Top 10 Best Gaming CPU in India
AMD Ryzen 3 3200G
Best Entry Level Gaming CPU
AMD Ryzen 3 3200G is the 2nd Gen processor packed with RadeonVega 8 Graphics and Heatsink Fan just for under 9000 INR.
It comes with four cores and four threads with upgraded clocks on both the CPU and the GPU from a 3.5 gigahertz base clock to 3.6 GHz. Whereas, on the GPU side, you're going from an 1100 megahertz core clock to 1250 megahertz core clock. The chipset shrinks down from the 14-nanometer process to the 12-nanometer process of Zen plus; it's probably one of the reasons why it's the unsung hero in this price bracket of 100 dollars.
AMD Ryzen 3 3200G is the perfect balance of price & performance for most day to day tasks. It's an APU, offering integrated AMD graphics. It makes CPU versatile choice for budget or ultra-small builds.
Check Cheapest Price: Amazon
Intel Core i7 9700K
For Intel Fans
This eight-core processor comes with a base frequency of 3.60 GHz, which can go up to 4.9 GHz boost on all cores when needed. Since it's an eight-core CPU, you won't need anything more than that, making it quite future proof even for two to three years to come. The downside for this processor is it does not come with the Intel Stock cooler. But who wants that? Buy a better from the market.
For ultra gamers, this Intel Core i7-9700K is more than sufficient for handling your intensive gaming. It won't bottleneck for most of the graphics in the market. I would suggest using a CPU Cooler for this beast to maintain the heat in your PC cabinet.
The raw juice this CPU has is more than capable of your intensive gaming sessions and also enough for your streaming needs.
Check Cheapest Price: Amazon
AMD Ryzen 7 3700X
Best Value for Money
It deserves the spot in 10 Best Gaming CPU in India. It comes with 8 Cores & 16 Threads and taking 32MB cache memory, which will make your gaming experience the best for this price bracket. Although AMD is known for its high power consumption, this processor is 65W TDP, and it's quite impressive comparing other AMD processors.
The CPU requires a separate GPU as it doesn't come with in build graphic. Nevertheless, you get the performance you pay for. But the better thing is, it comes with Wraith PRISM with a lovely looking RGB LED.
Check Cheapest Price: Amazon
---
Best Budget Gaming Phone In India 2020
---
Ryzen 5 2400G
The Budget-Friendly CPU
Ryzen 5 2400G is more than sufficient for day to day work. When a similar companion graphic card says 1050ti, it works like a charm. Ryzen 2400G is an APU with Vega 11 graphics, which means you get good low-med (decent) graphics on a budget. Compared with Intel i3-8gen CPU, it is said to be one of the best.
Being an APU that functions well in the department of graphics than the counterpart. Because these APUs have the same Ryzen chips as CPU, processing power is not an issue. Since both AMD and NVIDIA are now having a price war in the GPU department, the new GPU segment will be coming up. For now, it is an excellent choice to hold on to the integrated VEGA GPU. With the NAVI cards or the RTX cards, when things get a little bit stable, slapping that on old system won't be a problem.
Check Cheapest Price: Amazon
AMD Ryzen 9 3950X
Best AMD Gaming CPU
AMD RYZEN 9 3950X is a 3rd Gen desktop processor and comes with 16 cores and 32 threads. The base clock is 3.5 GHz and goes up to 4.7 GHz with a high cache memory of 72 MB. While this is beast on paper, it performs way better with TDP of 105W. It comes with a three-year brand warranty but unfortunately packs without Wraith Prism.
With 16 cores (32 threads), Ryzen 9 3950X is sufficient to stream your games and do heavy-duty workload of editing or both at the same time.
It consume less power against Intel Core i9-10900X and has more cores aswell. It beats the i9–10900X in both single and multi-thread tests. Although it comes with substantial cost, you want to consider buying a separate graphics card to play AAA titles.
Check Cheapest Price: Amazon
Intel Core i9 9900KS
Fastest Gaming CPU
The Intel Core i9-9900KS comes with 8 Cores/16 Threads with the max frequency of 5.0 GHz. Although this CPU is way expensive to the other CPUs on the market, with Intel, you can trust the best performance against any counterparts. With TDP of 127 Watts, it requires the delivers the rawest juice power for your ultimate gaming experience.
For gaming and programming, single-core performance is more critical than multi-core. So you'll probably see a higher frame rate with the i9 for gaming since gaming only really uses four threads. Make sure to pair it with the graphic card for using the maximum potential of this CPU.
With value for money Intel i9-9900KS, you don't have to think about the ultimate performance on your invested. Its a walk in the park for 9900KS for the features it offers, but comes with a cost aswell.
Although Intel is known for its high-end processors, we have better alternatives with AMD's Ryzen 9 series.
Check Cheapest Price: Amazon
Core i5 9400F
One Of The Best CPUs
Intel Core i5 9400F is the 9th Gen Desktop processor with more than enough six cores. It is best for gaming and editing. It has a boost clock speed of up to 4.10 GHz and a base clock of 2.9GHz (should run 3.9GHz on all cores), with the TDP of 65W, it can also support 128GB of memory. Although it doesn't come with an integrated graphic from Intel, it is enough to do casual gaming or games with low graphic requirements.
The major plus point is its price capped at 14k INR, where most of the market processors lack the raw juice required for 4k editing 4k. Since it doesn't come with integrated graphics, many may find it expensive against Ryzen 2400G at a similar price range and in build GPU.
Be sure for the leading game performance, and better pricing with 9400F.
Check Cheapest Price: Amazon
Core i5 9600K
For Passionate Gamer
With six core-6 threads, Intel Core i5 9600K is the leading processor for the price it comes at. With the base clock speed of 3.7 GHz up to 4.6 GHz, this CPU won't regret you with its performance. The TDP of this processor is even less with 95 Watts.
The good about this processor is that it comes with inbuilt graphic Intel UHD Graphics 630, which is enough for casual gamers and games with low specs. It also has a good cache memory of 9MB.
Unfortunately, the processor doesn't come with a cooling sink, so you have to add an extra cost for the cooling system to gain maximum out of 9600K.
Many users say the processor usually runs at 44-degree Celcius. After an hour of gaming, it is continuously running at 80-degree Celsius, which makes it a must to invest in the best budget air cooler for PC.
Check Cheapest Price: Amazon
---
Top 20 Games For PC Without Graphic Card
---
AMD Ryzen 7 3800X
For AMD Fans
The Ryzen 7 3800X uses the latest Zen2 architecture, packs 8 Cores & 16 Threads with a base clock speed of 3.9GHz up to clock speed of 4.5GHz, also has a high cache memory of 32MB. It supports AM4 type socket, and better compatibility with AMD 300, 400, 500 series chipset based motherboards.
This processor deserves its place in 10 Best Gaming CPU in India due to its features, and on the price, it comes at.
The downside is the requirement of an external graphics card to get the most out of this processor. With TDP of just over 105 Watts, you know the performance to expect. Best for 4k editing or gaming and streaming.
The best is the three years warranty with Wraith PRISM that comes with the processor for cooling your CPU, and cool RGB LED around it.
Ryzen 7 3800X is also a better option than Intel I7 8700K as it has 2 Extra cores with four extra threads and high clock speed.
Check Cheapest Price: Amazon
AMD Ryzen 7 2700X
For The Budget-Hardcore Gamer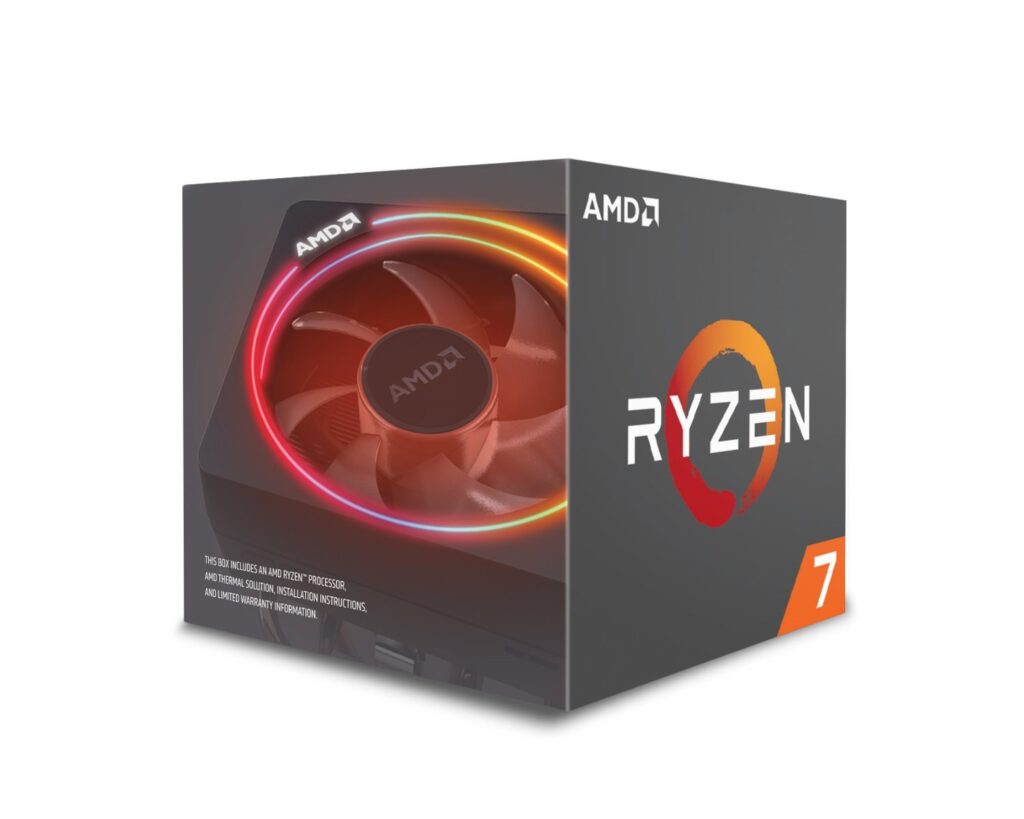 The AMD Ryzen 7 2700X comes with eight cores and 16 threads capable of providing the multiprocessing with hight performance. And the processor is capable of multitasking with 20MB cache memory. With a base clock speed of 3.7 GHz up to 4.3 GHz, you shouldn't worry about the performance here. The processor is capable of handling heavy gaming sessions and editing for the price you pay for.
It comes with Wraith PRIZM cooler to reduce the heating against its high TDP of 105W. The prizm gives it a unique look with RGB LED around it, making your ultimate setup gaming ready.
The processor is compatible with X470 Chipset with a Ryzen ready AM4 motherboard. It's a super processer that you can get at this price point! It's blazing fast, with better performance and at a low cost.
Check Cheapest Price: Amazon
10 Best Gaming CPU in India Complete List
AMD Ryzen 3 3200G
Intel Core i7 9700K
AMD Ryzen 7 3700X
Ryzen 5 2400G
AMD Ryzen 9 3950X
Intel Core i9 9900KS
Core i5 9400F
Intel Core i5 9600K
AMD Ryzen 7 3800X
AMD Ryzen 7 2700X
Conclusion
First, ask what you're going to do with it when choosing a CPU, then see how much you can budget for it after you've figured out how much you're spending on other components like your SSD, RAM, GPU, and PSU. This list 10 Best Gaming CPU in India made possible through web research and customer reviews on Amazon.
While processors are essential, there is no point in pairing a high-speed chip with weak graphics (unless you're a gamer) or a slow mechanical hard drive that spins.
While reading about specs such as clock speed and the thread count is helpful, the best measure of the performance of a processor comes from objective reviews like those we write on Gaming Nation.
I hope you found this 10 Best Gaming CPU in India 2020 helpful. Comment Below to let me know.