Games! Games! Games! We all love playing video games, and most of us have been playing them for decades! However, not all games are free today, so we bring you the best websites to download free pc games, even in 2021.
All these websites allow free to play video games that help beginners try out gaming or help people de-stress from their rather hectic schedule. Some of these sites include both paid and free games making our life even more convenient.
Let's look at some of the websites that provide free games for us to enjoy.
ROMSPEDIA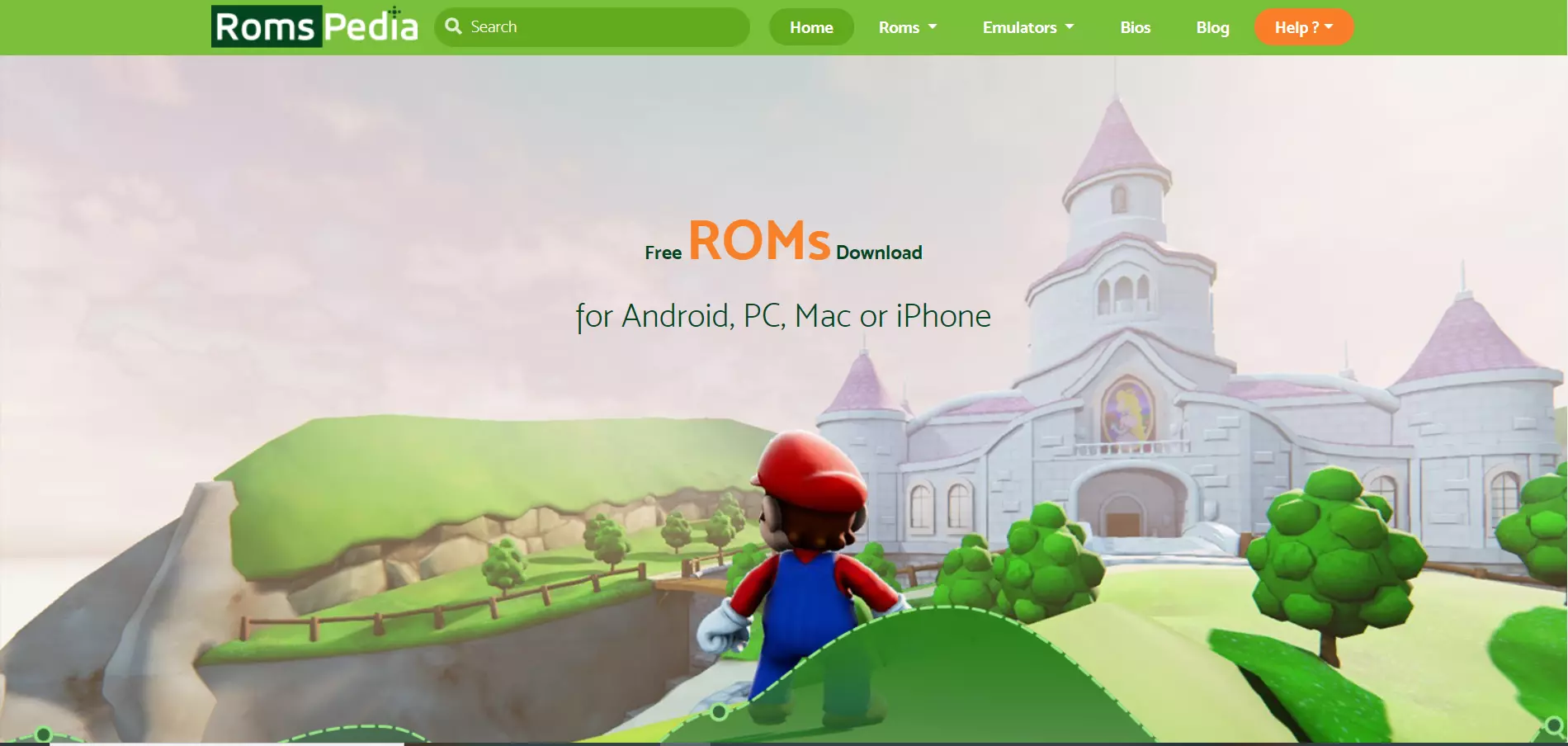 The first on the list is ROMSPEDIA. While some of you might not have heard about this awesome website, I should tell you that you're going to find some of the mind-blowing games here. Whether it's about game ROMs, Emulators, or Bios, ROMSPEDIA got you covered.
The interesting part is that the website gets updated regularly, so you never run out of games in your system. If you have an android, Mac, PC, or even iPhone, you get a variety of options to choose from. Some of my favorite games are listed below;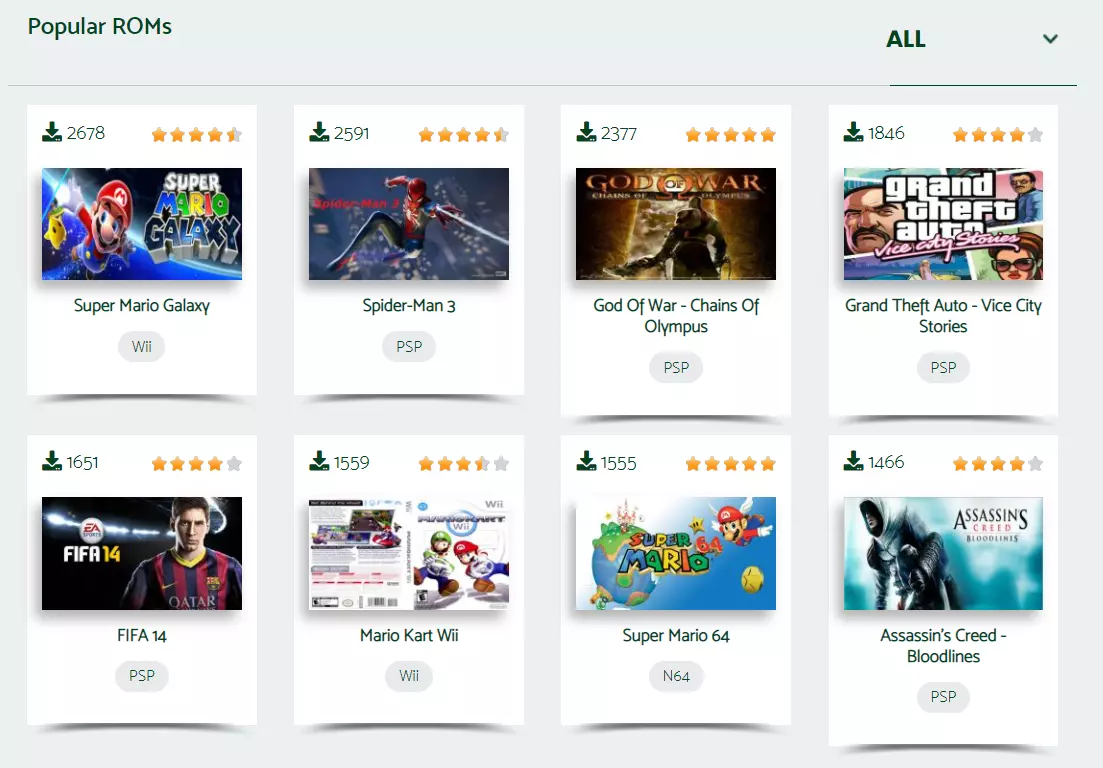 Steam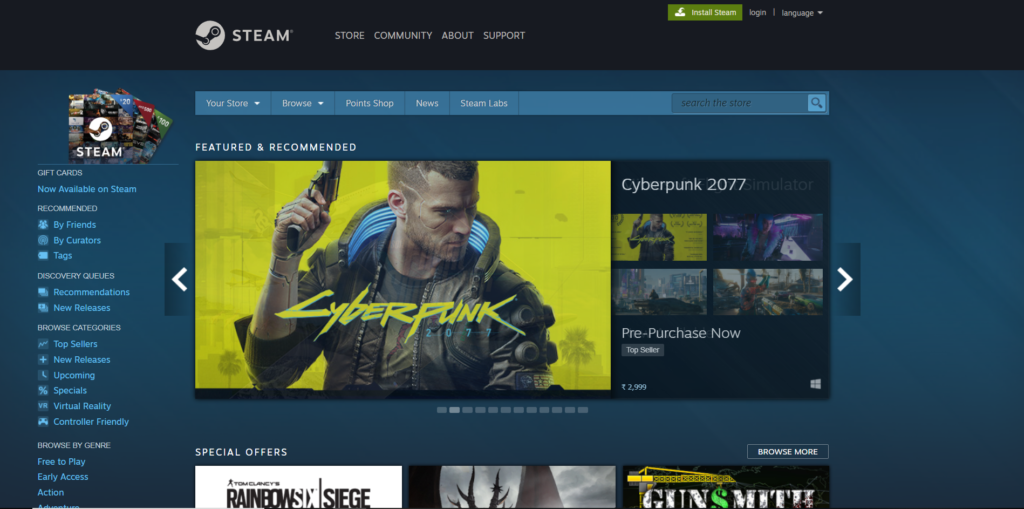 The Valve-owned gaming engine has been around since 2003. One of the most prominent digital marketplaces to buy games, Steam has made it big. Steam provides gamers with forums to precisely choose their interests and actively participate and be part of a community. They always have the latest updates and the latest games for users to buy.
They also are the hosts of two very famous video games: CounterStrike and Dota. However, the only con is that rounds may be released the first over here, but that also results in its extensive database of users rushing to buy this, which takes a toll on the downloading speed of games.
Games We Recommend Download:
CounterStrike: Global Offensive
Dota 2
Planetside 2
Epic Store
Home to the much-reputed video game: Fortnite, Epic offers a wide range of video games. The catch is they make one game free every week for a limited amount of time. Fortnite, though, is free throughout. Do check them out.
Ocean of Games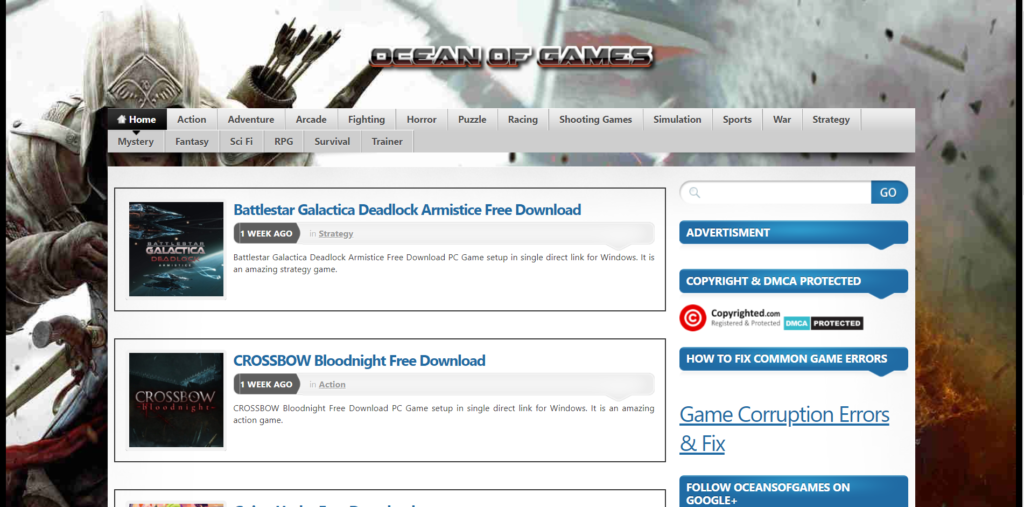 Providing over 11 genres to enjoy, Ocean of games has thousands of games you could play. They've been around since 2013, and their only wish is to bring the gaming community together.
They also post reviews, updates on upcoming games, and a lot more. On the home page, they guide you to the latest releases they have.
Games We Recommend Download:
Streetfighter V: Champion Edition
Dragon Ball Z Kakarot
Dance of Death: Du Lac and Fey
Battlestar Galactica
Are you enjoying our Best Websites to Download Free PC Games article?
Also check: Best Open World Games For Low-End PC
EA
EA Sports have been a very part of the gaming industry since the beginning of time. It is the home of many sensational franchises of games like FIFA, NFL, NBA, and many more. They also have a whole series of free games.
Games We Recommend Download:
Star Wars: Galaxy of Heroes.
Plant Vs. Zombies
Need For Speed: No Limits
Origin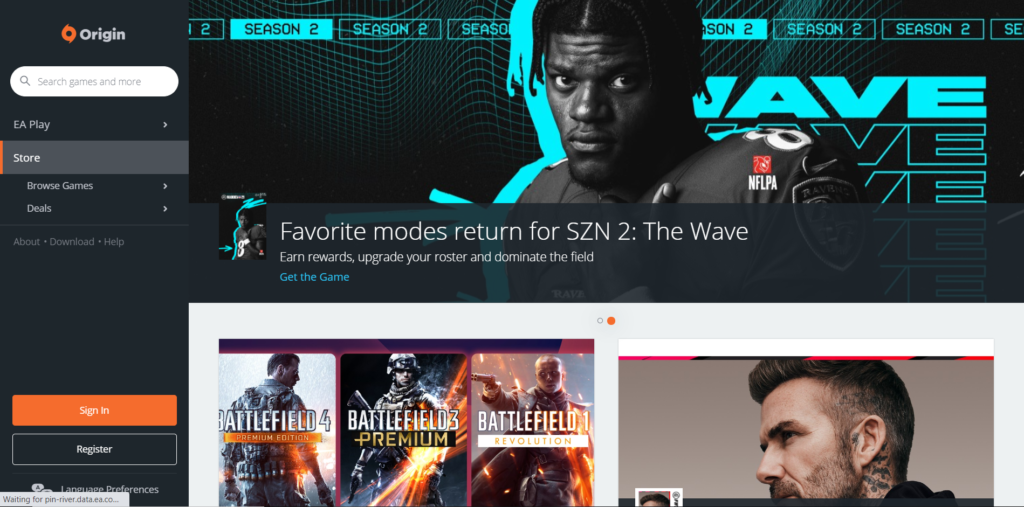 The EA owned company provides a wide range of games. It gives access to both paid and free games developed by EA and Origin.
Games We Recommend Download:
Apex Legends
Star Wars: The Old Republic
GOG
Good Old Games, as the name suggests, offers a whole collection of indie games and classics from the 1990s. They provide both paid and free services.
It is a venture owned by CD Projekt, the developers of Cyberpunk 2077 and The Witcher. It manages to thrive in the Steam dominated PC gaming marketplace.
Games We Recommend Download:
Tyrian 2000
BioMenance
Cayne
How about letting your friends know about these Best Websites to Download Free PC Games?
Acidplay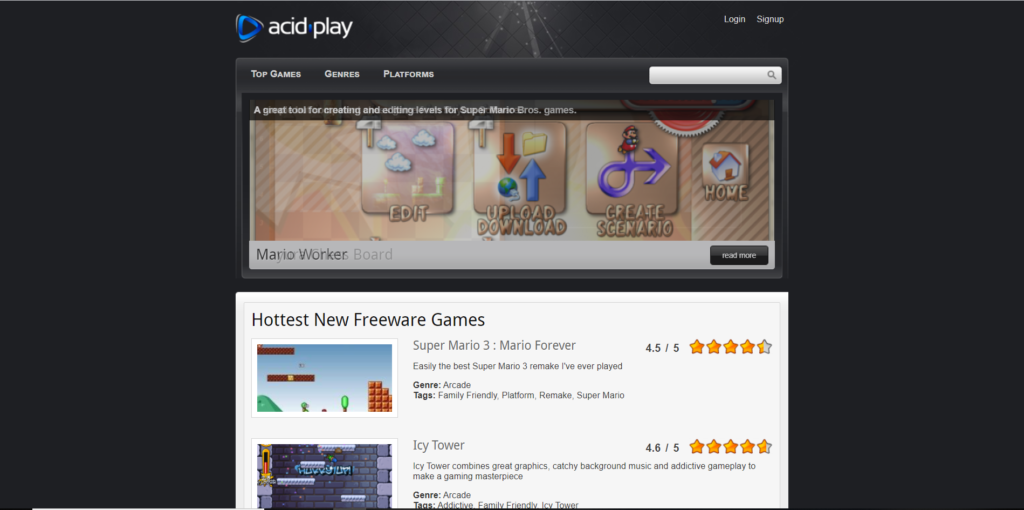 The next on our list is Acidplay; probably the best website provided free to play games to everyone. It is now providing over 1500 games to play for free now(2020). It displays ten games that are best rated and latest on the home page.
All games have one-line descriptions, ratings, and the genre of the game. It helps the user find what he wants and have a quicker, more satisfying experience. The website offers over 11 genres of video games. Some of these genres are Arcade, Action, Role Playing Games(RPG).
Games We Recommend Download:
Lemming Ball Z
Super Mario 3
Dragon Ball Z: Millennium
Free2Play
Free2Play is a website that provides MMO &RPG games at no cost. It offers a wide range of information, including interviews, articles, and reviews of games available on the website.
Games We Recommend Download:
Star Trek Online
Echo of Soul
EVE Online
Home of the Underdog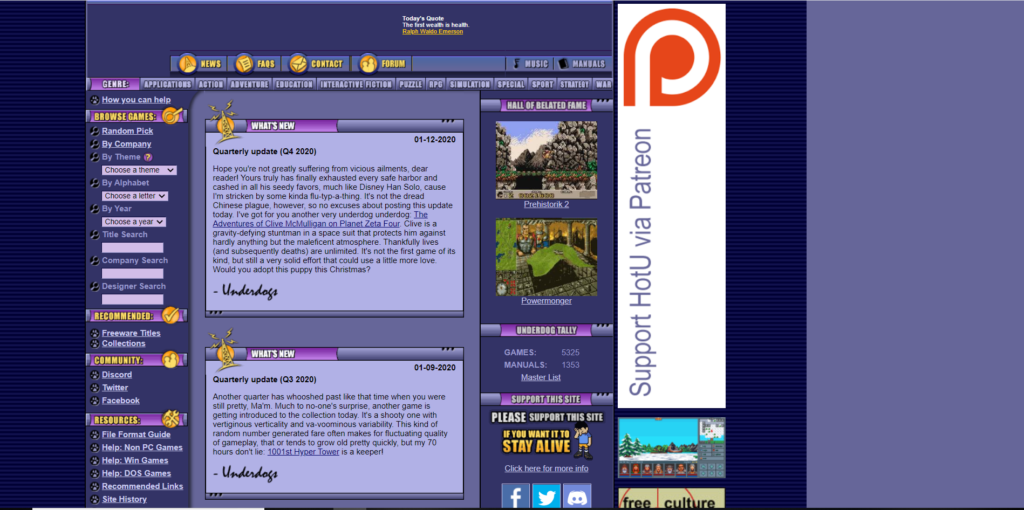 This is the website for you if you love the classics, but you can't find them anywhere. A website started by a Thai Journalist in 1998; this website provides thousands of video games to download.
Earlier known as "Homeoftheunderdog.org" and "hotud.org," this website has its reputation. After a set of controversies, Home of the Underdog collaborated with GOG (Good Old Games).
It is now revived as of 2017, and you can go download some of the classics right now." 007: License to Kill", 1989 is an example of the games available here.
Reloaded.org
Reloaded is the home to several remakes of the classics, many indie games, and hundreds of advertisements. While they might assure you to find good games on this website, they indeed don't ensure you a pleasant experience.
The site also hosts interviews and a list of game makers who have contributed to the website. They held five nominations in "Da Fast Lane" awards in 2005-06 and won three of them. They also refer you to some similar websites you could check out if you're interested.
Some of the best games on reloaded Abandonia are "7 days a skeptic" and "Abducted 10 minutes.
Itch.io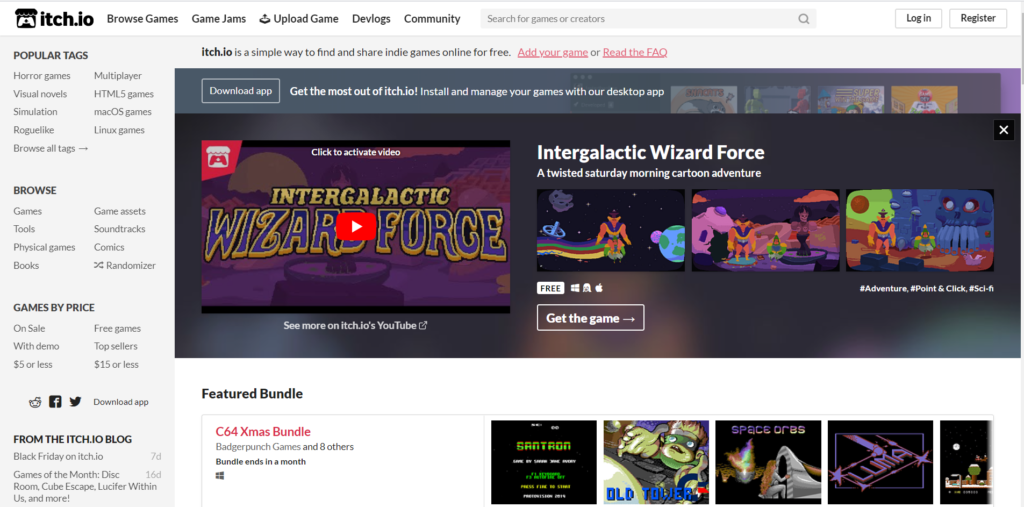 Trying to break the very cliché military set in modern-day video games, Itch.io tries to break this stereotype. Itch provides the latest indie games there are. It has been doing a lot for the indie gaming scene.
You can buy, upload, and play free games on the website. It may target a particular audience, but it does an excellent job connecting them. Itch hosts forums that join the indie gaming community. "Adventures with Anxiety" is one of the most amazing games available on itch.
G2A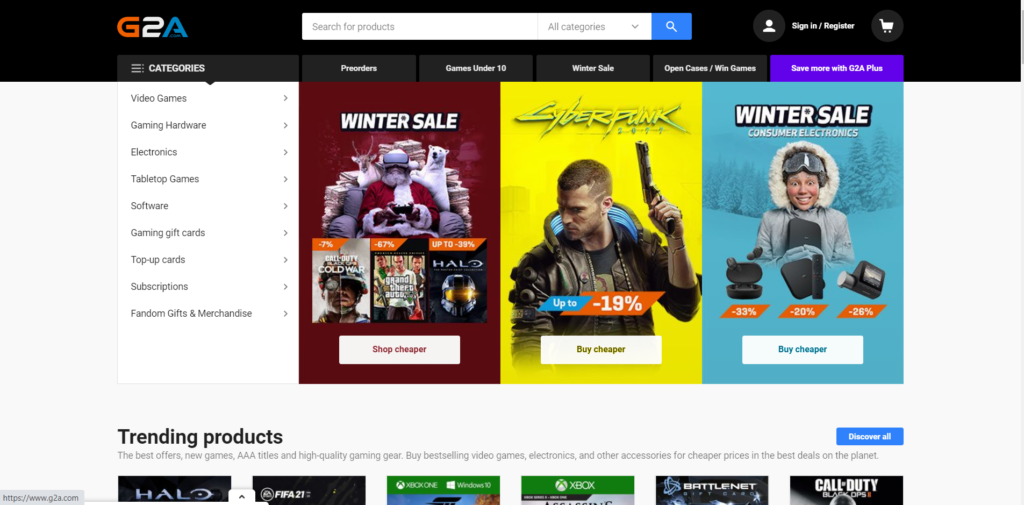 G2A acts as an intermediary between the sellers and buyers. G2A sells gaming products, software, and games at low prices than the original. However, they do not sell these products.
People can post the products they want to put up, and all G2A does is give them a platform and support. Hosting over 20 million users, G2A has helped many gamers get equipment at a lower price. They also provide free games, sometimes. One of the best websites to download free pc games for reason.
AllgamesAtoZ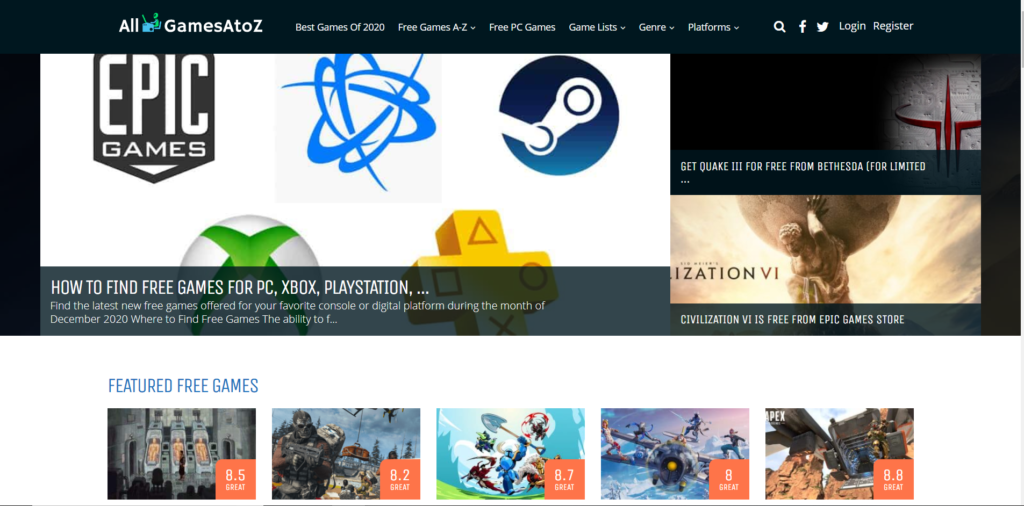 AllgamesAtoZ is the easiest way to find free games that are available online. AllgamesAtoZ collects free games from everywhere on the web and brings them all together on one website.
They offer games from over 11 genres and for ten gaming platforms.
The Way of The Ninja
For everyone who sat through this long list, we've got a special gift for you. The Way of The Ninja doesn't offer hundreds and thousands of games but offer only one but very unique game of their own. The "N" game. Designers Mare Sheppard and Raigan Burns went all out on this game and made a very simple yet mind-boggling game.
The first edition: "N," came out in 2004, followed by N+ in 2008 and N++ in 2015. All three games offer hundreds of levels. You can also play stories that other users make and make your levels and publish them. MetaNet Software and Atari published the game.
This was our list of the top 14 websites to find free games to play without any hassle.
FAQs
Why do people prefer downloading games over CDs now?
We live in the digital era now. Life has become so easy that we can have international contact and communication in a matter of seconds now. This development has helped establish a direct connection between the customer and the makers of the game. Now we don't have to find the CD for every game to play it.
Please do check all of them out and let us know what you think about them. Until then, Happy Gaming!
---
Disclaimer: The views, suggestions, and opinions expressed here are the sole responsibility of the experts. We do not represent any of the above websites – in case of any dispute, kindly contact the respective site owners.