PlayStation 4 games offer some of the best gameplay. Whether you're playing a fast-paced action game or a slow-paced RPG, there's something for you.
The console's hardware allows developers to create beautiful worlds and characters that look lifelike. And it's not just the big-budget AAA games that look great.
There are also a ton of different gaming genres to choose from, so you're sure to find something you love. Below are some games under 20GB size.
Top 10 Best PS4 Games Under 20GB in 2023
Gravity Rush 2
Launch: 2017 | Genre: Action-adventure
Gravity Rush 2 picks up right where the first one ended. Kat is still trying to figure out who she is and how she got her powers. She's also still trying to find a way to get back to her home world.
The game features a whole new cast of characters, as well as some familiar faces. The gameplay is just as good as the first game, if not better. The controls are tight and responsive, and the game is just as challenging.
There are also a few new gameplay mechanics, such as the ability to change gravity at will, which add a whole new dimension to the game.
Overall, Gravity Rush 2 is a must-play for fans of the first game. It's a beautiful game with an engaging story, great gameplay, and unique new features.
Grip: Combat Racing
Launch: 2016 | Genre: Racing
Grip: Combat Racing is a high-octane, adrenaline-fueled game with you on the edge of your seat from start to finish.
Featuring a unique mix of high-speed racing and well-designed combat, Grip: Combat Racing puts you in the driver's seat of the most influential and advanced race cars in the world.
With various game modes, including single-player, multiplayer, and cooperative play, there is something for everyone in Grip: Combat Racing.
If you're looking for an intense, action-packed racing game that will keep you coming back for more, look no further than Grip: Combat Racing.
Everybody's Golf
Launch: 2017 | Genre: Sports
It's time to meet with Everybody's Golf for PlayStation 4! This game is packed with all the fun of the classic golfing franchise, plus some new twists to keep things interesting.
Whether you're a seasoned pro or just starting, Everybody's Golf has something for everyone. The game features beautiful environments to explore, easy-to-learn controls, and various modes to keep you coming back for more.
There's also a great cast of characters to meet and interact with. You'll have plenty of opportunities to show off your skills and earn bragging rights against your friends.
So grab your clubs and hit the ground! Everybody's Golf for PlayStation 4 is the perfect game for a casual round of golf or severe competition.
Deep Rock Galactic
Launch: 2018 | Genre: First Person Shooter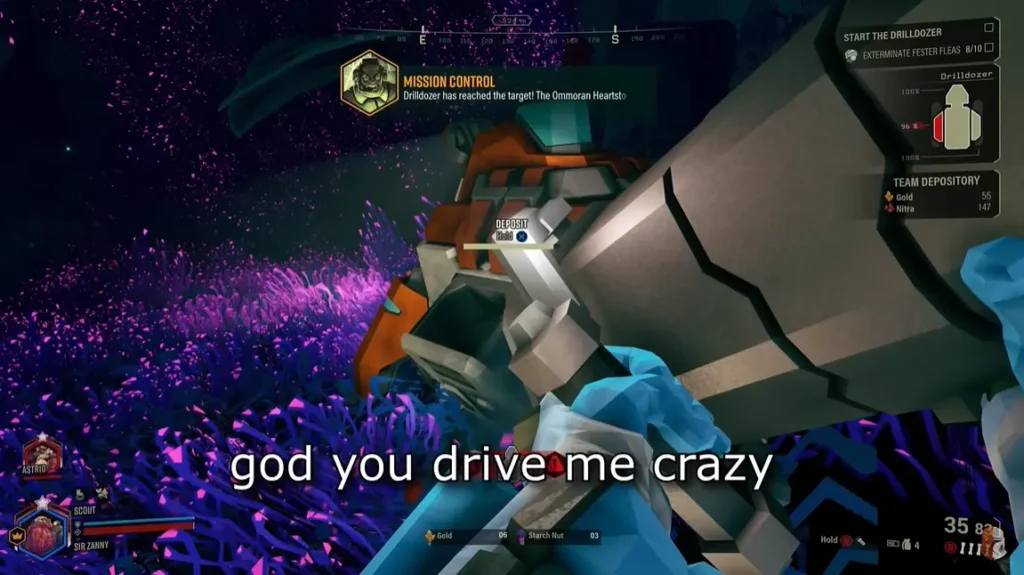 Deep Rock Galactic is a game all about mining, and it's one of the most unique and exciting games out there. It's a first-person cooperative game where you and your friends play as a team of dwarves sent to mine in dangerous, dark caves.
The game is highly challenging and requires much teamwork, but it's also much fun. There are various caves to explore, and each one is filled with different kinds of minerals and enemies. You'll need to use your team's skills to mine the minerals, avoid the enemies, and ultimately, escape the cave.
Deep Rock Galactic is a truly unique and innovative game that will please any mining game fan. It's a challenging and exciting game that will keep you and your friends entertained for hours.
So, if you're looking for a new and exciting game to play, check out Deep Rock Galactic.
Lost Words: Beyond the Page
Launch: 2021 | Genre: Action-adventure
Lost Words: Beyond the Page is a game that caught many people's attention for several reasons. Firstly, it's an adventure game with a strong narrative focus.
Secondly, it's set in a world of words, which is something that has always fascinated many. The game has good graphics and great gameplay to keep gamers hooked for hours.
Mighty No. 9
Launch: 2016 | Genre: Platform
Suppose you're a fan of 2D action platformers. In that case, you'll want to check out Mighty No. 9. The game follows Beck, the 9th unit of the Mighty Numbers, as he awakens in a world where robots have gone berserk.
Beck must travel through various stages, defeating other Mighty Numbers and the final boss, Robotics Revolt Leader, to restore peace.
Mighty No. 9 received mixed reviews upon release. Critics praised the game's visuals and gameplay but criticized its story and length.
Streets of Rage 4
Launch: 2020 | Genre: Beat'em up
Streets of Rage 4 is a sequel to the classic beat-em-up game series that started on the Sega Genesis. The game features returning favourites as well as new playable characters.
Streets of Rage 4 features beautifully hand-drawn visuals, a fantastic soundtrack, and tight, responsive gameplay. It's a proper love letter to the series and a must-play for fans of beat-em-ups.
Lego Batman 3: Beyond Gotham
Launch: 2014 | Genre: Action-adventure
Lego Batman 3: Beyond Gotham has something for everyone, with an expansive and varied campaign mode, tons of unlockable characters and vehicles, and a whole host of new gameplay mechanics.
The story of Beyond Gotham follows the Caped Crusader and his allies as they attempt to stop evil from using the power of the Lantern Rings to shrink and collect planets.
The game features an all-star voice cast, including Troy Baker as Batman, Nolan North as Superman, and Travis Willingham as Green Lantern. The gameplay In Beyond Gotham is a mixture of action, puzzle-solving, and light platforming.
The game's many levels are filled with puzzles to solve, enemies, defeat, and explore secret areas. There are also several minigames and side-quests to keep players busy.
Overcooked
Launch: 2016 | Genre: Cooking
It is a cooking game that tasks up to four players with cooking various dishes in a kitchen constantly on the verge of being destroyed by obstacles such as fires, floods, and rats.
The players must work together to cook the dishes and serve them to the customers before the time runs out.
Overcooked received positive reviews from critics, praising its cooperative gameplay, challenging levels, and humour.
Rayman Legends
Launch: 2016 | Genre: Platform
Rayman Legends is a true masterpiece of platforming. The level design is top-notch, and there's a ton of variety in the game.
You'll visit different worlds, each with its theme and challenges. There are also tons of secrets to find and collectables to collect.
The graphics in Rayman Legends are gorgeous. The game looks like a beautiful cartoon and is one of the best-looking games on PlayStation 4.